CX 1X OVAL 110/5 BCD N/W traction chainring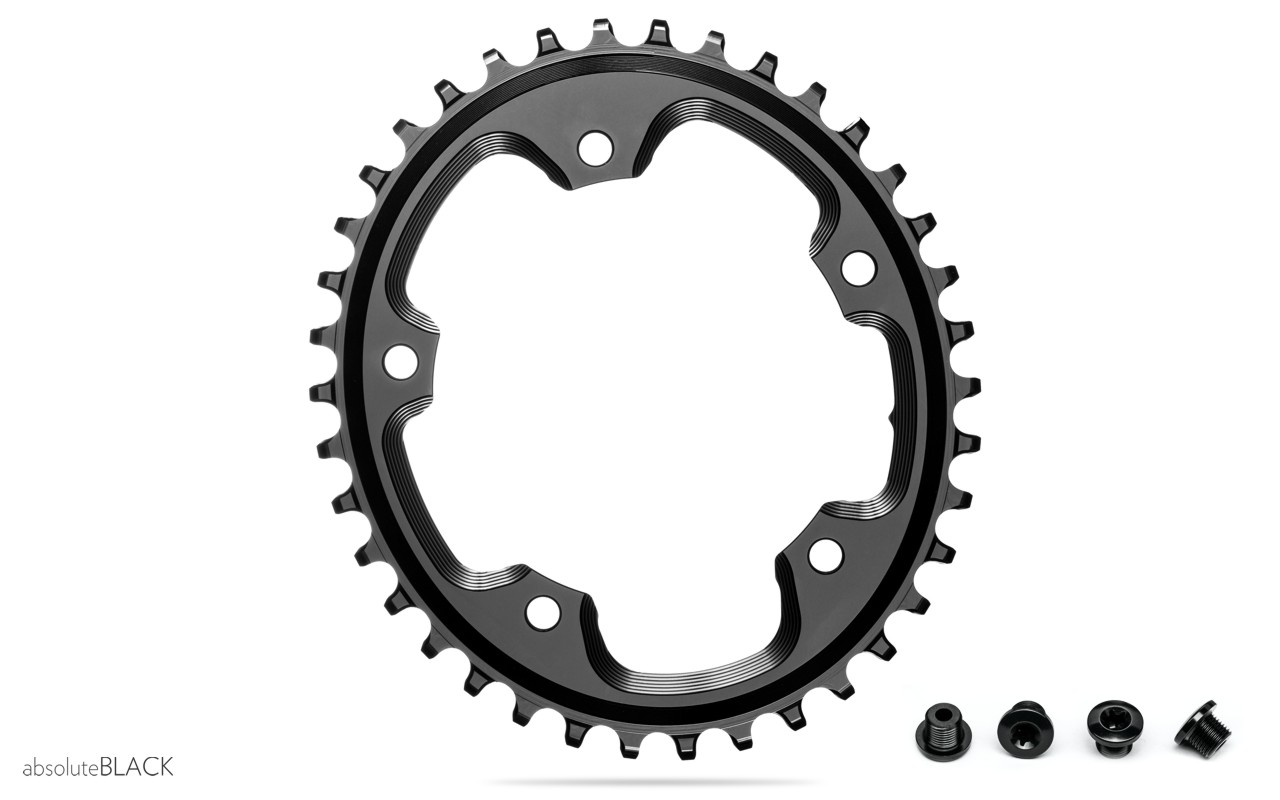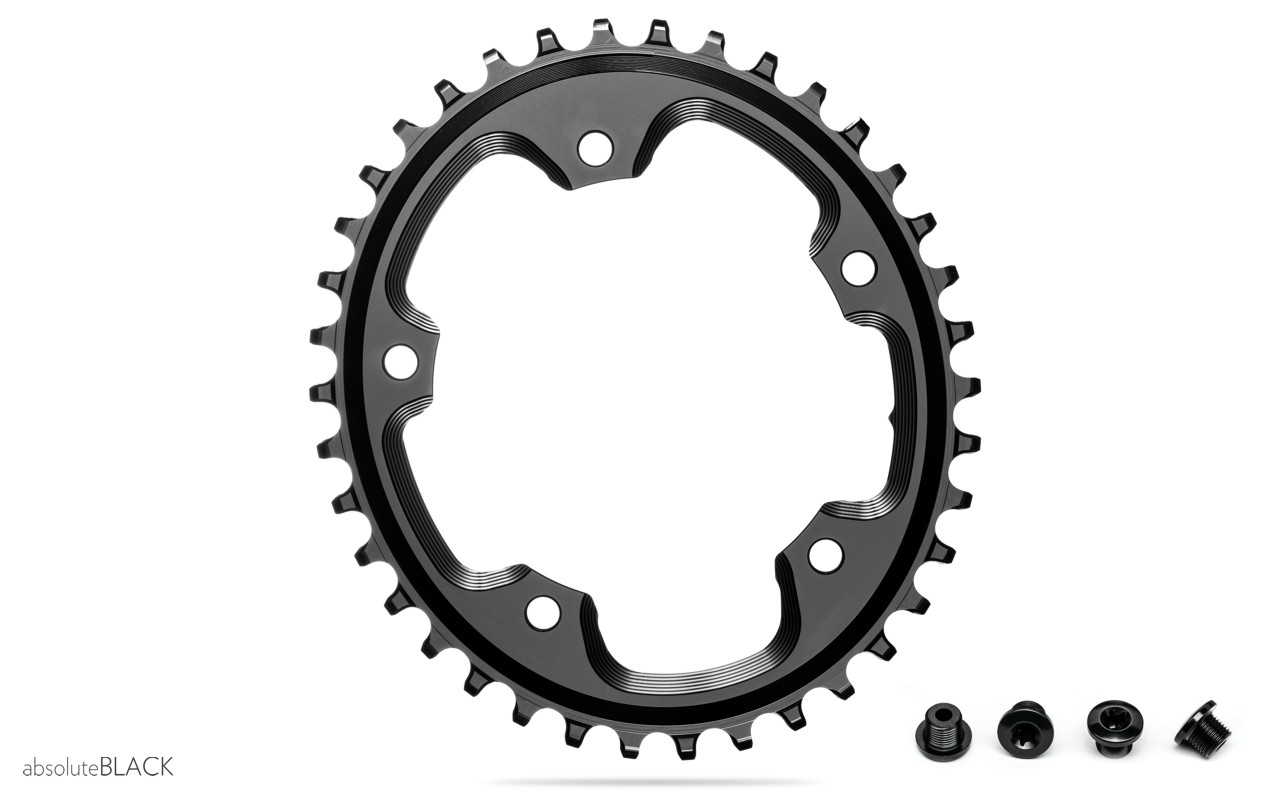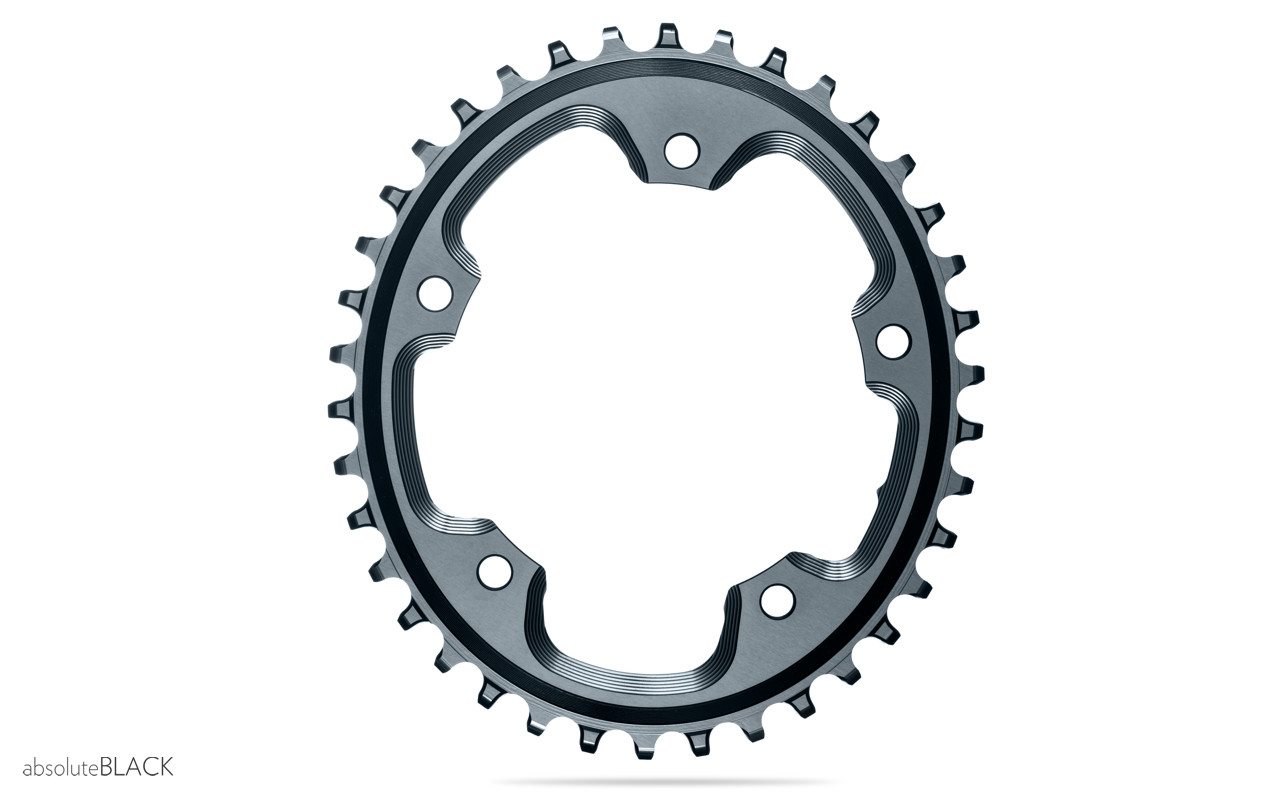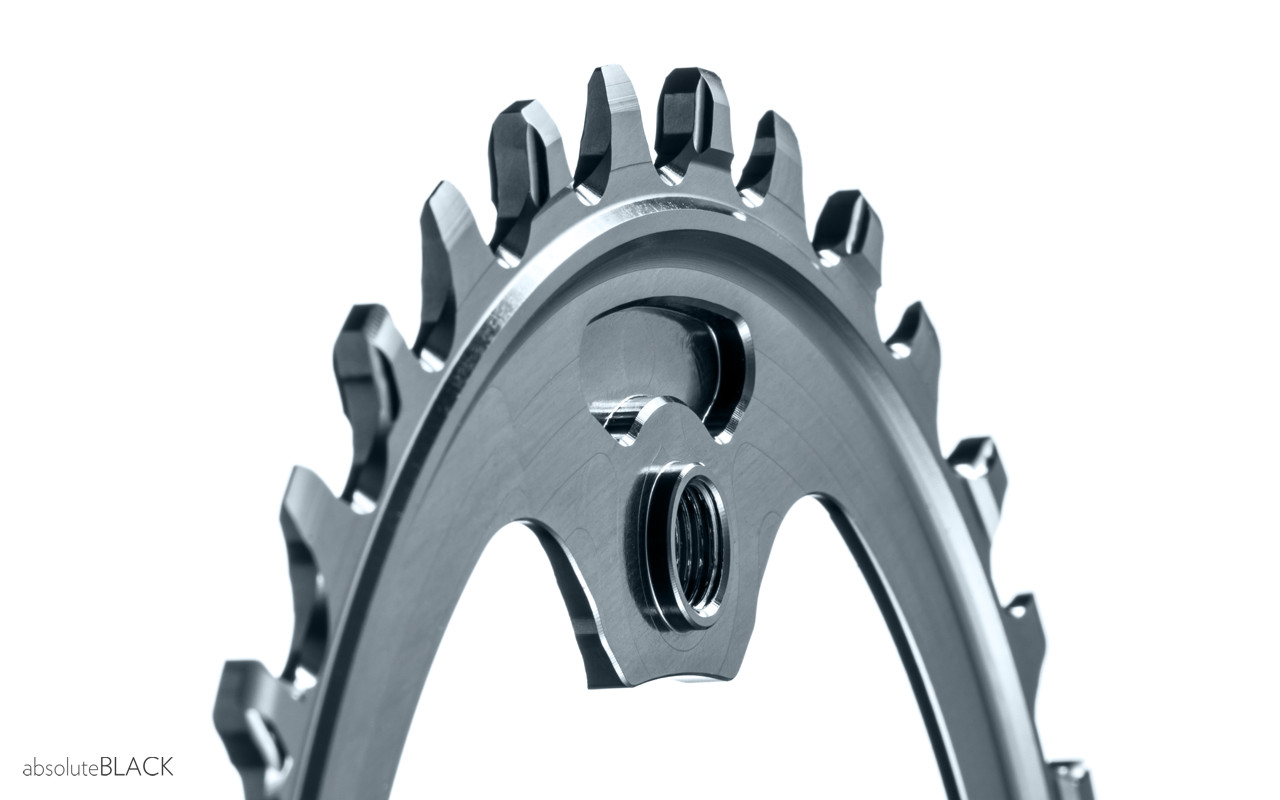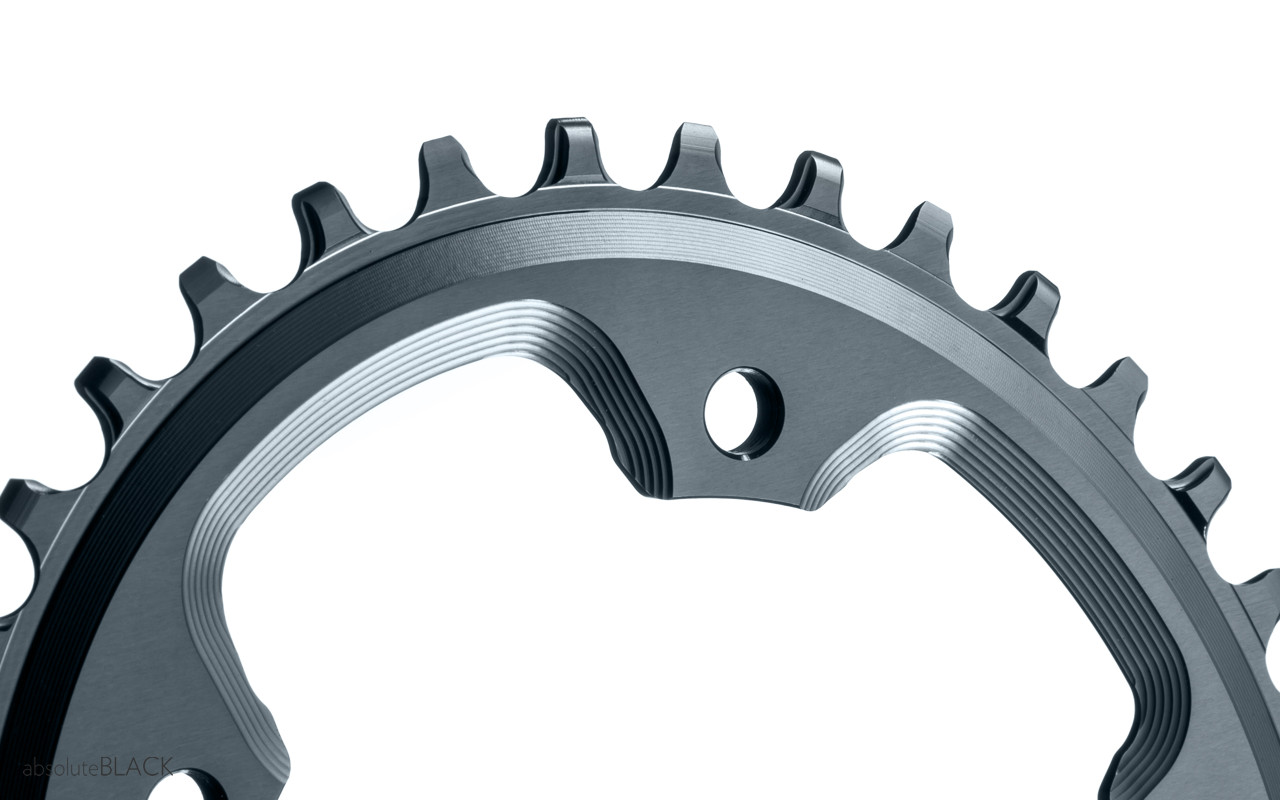 Availability
In Stock
Bolts Included
absoluteBLACK Premium 1X Cyclocross 110/5 bcd oval chainrings are designed for all Shimano 5 bolt cranks like Dura-Ace 7950, Ultegra 6750, Shimano 105- 5750 and many more. Perfect choice for Cyclocross and Gravel 1X setup with road cranks. Eagle 12spd compatible, narrow-wide chainring. Delivered with mounting bolts.
| | |
| --- | --- |
| Size (Mass +/-1g): | 38T (63g), 40T (68.5g), 42T (76g) Bolts included to every chainring (mass given for chainring only) |
| Color | Black, Ultegra Grey |
| Compatibility | Shimano Dura-Ace 7950, Ultegra 6750, Shimano 105- 5750, Tiagra 4650, FSA, Rotor 3D & 3D+, S-works and many older cranks. Fits Sram Force and Red. Also fits Sram cranks with removable spider that have 1 hidden chainring bolt like Force22, Rival22. Compatible with Di2. |
| Material | cnc machined 7075 Txxx Aluminum. Long-lasting construction |
| Finish | type II anodizing |
| Ovality | 10.5-11.4% ; Timing of 112-113° after TDC (top dead center) - Patent Pending |
Advantages of our special CX Oval chainrings:
*Finest design to provide excellent weight to strength ratio
*One of a kind special oval shape (Patent Pending)
*Unique Patent Pending narrow-wide teeth profiles to keep your chain in place for minimum 12 months!
*Special 3D teeth machining for ultimate mud relief decrease wear and noise dramatically
*Designed to handle mud and grass with easy
*Superb quality and great look.
*You will ride faster using ovals. If you keep using round ring then others will get quicker.
*Reduces stress on knees and helps to maintain your legs fresher for longer
*You will not "feel" the oval shape at all
What size should I choose
* 38T Oval ring will suit best someone who uses 37 or 38T round chainring currently. While pedaling, you will feel similar effort to the one riding round 37T ring, but you will gain the speed similar to riding 40T chainring.
* 40T Oval chainring has an ovality of 38/42T and is best for someone who uses currently 39 or 40T round ring.
* 42T Oval chainring has an ovality of 40/44T and is best for someone who uses currently 41 or 42T round ring.
Why our oval chainrings work
Our premium Oval chainrings work because a rider does not produce power evenly through a pedal stroke; they maximize the part of the stroke where power is produced and minimize resistance where it isn't. Oval rings make the spin cycle a lot smoother and are easier on legs while climbing. Believe it (or not), but a round chainring doesn't transfer torque to your rear wheel as smoothly as an Oval one. You will actually feel your stroke to be more "round" with an Oval shape than with a round chainring.
Why it matters
Traction, Traction and Traction. With oval rings rear tire traction improves greatly on loose and slippery terrain. Smoother power delivery to your rear wheel means that you will be able to maintain better, constant cadence; get less stress on the joints (knees) and therefore be able to keep certain level of effort for longer. This results in higher average speed. Moreover, 11 studies made by various Universities in the World show that using oval chainrings human legs utilize more muscle groups (compared to round one), but each of them to lesser degree. Load from pedaling an oval chainring is spread over greater muscle mass which in effect gives you the feeling of fresher and more relaxed legs. It is world's finest oval chainring backed by tens of thousands of customers.
How to mount 110/5 Oval chainring:
First you need to remove crank from the bike. Once removed, unscrew 5 bolts that hold two original rings together with T-30 torx key. Take off both original chainrings. Position Absoluteblack oval chainring in same place where the big chainring was. Please note that small indicator on the chainring Must sit behind crank arm - same way as original chainring indicates its position (If you are mounting it to the crank with one hidden bolt, then the small indicator has to be exactly opposite to the crank arm to assure correct oval position). Use provided AB bolts to lock the chainring in place using T-30 torx key with force of about 5-7Nm. Mount your crank back to the bike. Done
Always use a new chain with a new chainring.
MSRP: £62.00

......
Designed in UK. Manufactured in Poland (EU).
Word on BIOPACE - Please understand Absolute Black's oval design IS NOT 'Biopace' technology. Shimano created their non-round Biopace chainrings with a completely different orientation of the biggest radius of the oval. Their ring orientation has since been widely accepted as being fundamentally wrong. Instead of positioning it in power zone - which is slightly below the level of the crank - they clocked it to the dead zone where human physiology generates least power. The result was that in power zone pedalling was too easy and in dead zone too hard, causing knee pain and lumpy pedalling cadence. Exactly opposite to how it should be. The opposite of how it is with an Absolute Black oval chainring fitted to your bike.
The World's finest oval (elliptical) road chainring. Non circular chainrings, Non-round chainrings. Asymmetrical chainrings.