absoluteblack oval guidering chainring for E*thirteen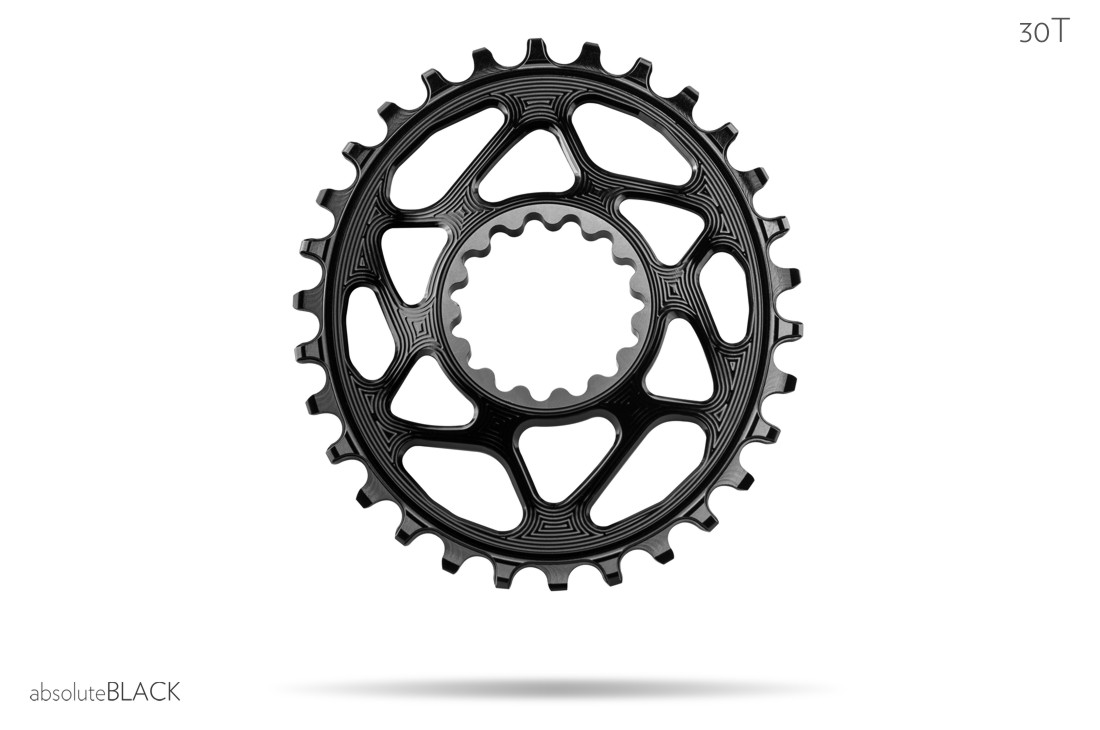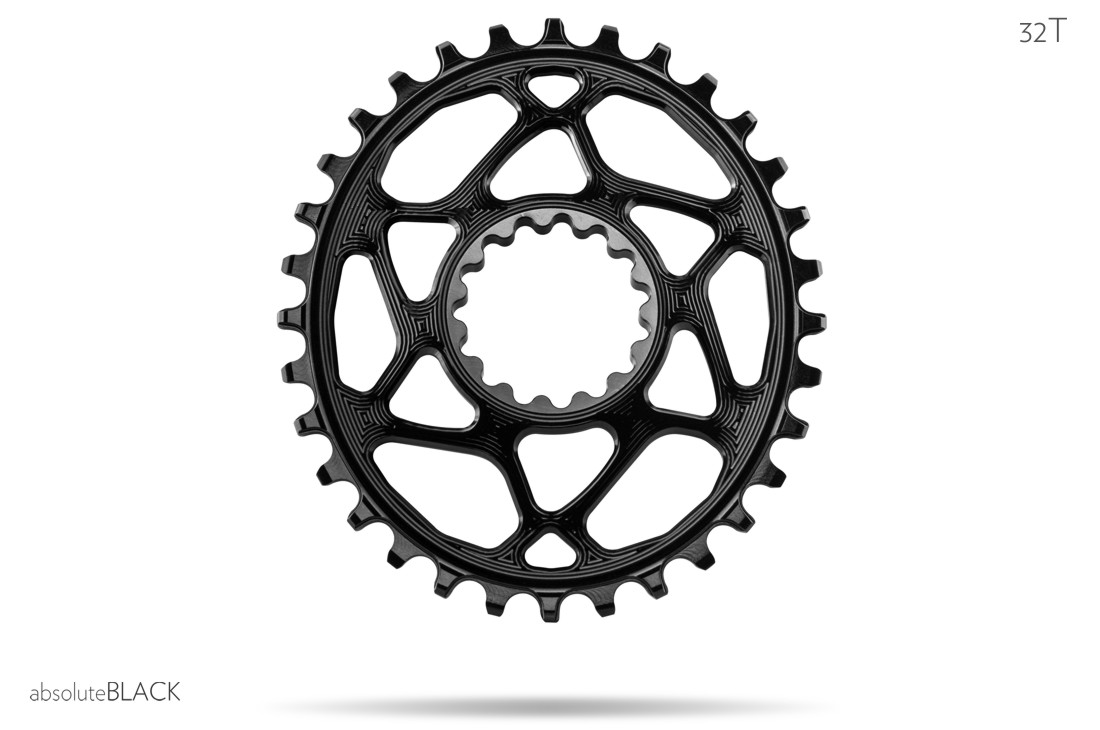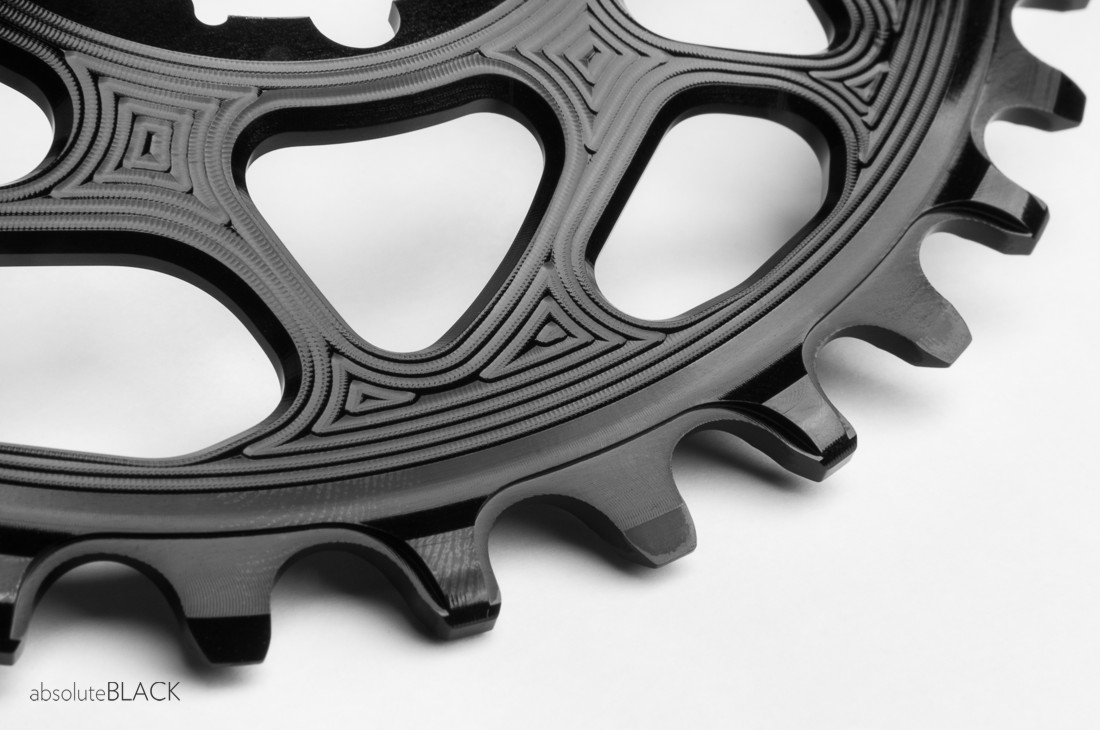 Our premium E*thirteen (E13) compatible Direct mount Oval chainrings are designed for E*thirteen TRS cranks only. It replaces stock round chainring.
| | |
| --- | --- |
| Size (Mass +/-1g): | 30T (58g), 32T (62g) |
| Color | Black |
| Compatibility | E*thirteen TRS, TRS+ and TRS Race Carbon cranks only. 9, 10, 11 and 12spd Eagle compatible. |
| Material | cnc machined 7075 Txxx Aluminum. Long-lasting construction |
| Finish | type II anodizing |
| Chainline | 49mm |
| Ovality | Optimized to each size separately. Range: 10.2-14.4% and Timing of 110.5-116.3° after TDC (top dead center) Patent Pending |
Advantages of our special Direct mount chainrings:
*Finest design to provide excellent weight to strength ratio
* min 12% lighter over stock round chainring
*One of a kind special oval shape (Patent Pending)
*Greatly improves traction and climbing abilities
*Unique Patent Pending narrow-wide teeth profiles to keep your chain in place for minimum 12 months!
*Special 3D teeth machining for ultimate mud relief decrease wear and noise dramatically
*Superb quality and great look.
*You will ride faster using ovals. If you keep using round ring then others will get quicker.
*You will not "feel" the oval shape at all
*Reduces stress on knees
*We mastered our oval chainrings to perfection, so you can get best possible advantage from the oval/elliptical shape.
What size should I choose?
* 30T Oval chainring has an ovality of 28/32T and is best for someone who uses currently 29 or 30T round ring.
* 32T oval ring will suit best someone who uses 31 or 32T chainring currently. While pedaling, you will feel similar effort to the one riding round 31T ring, but you will gain the speed similar to riding 34T chainring.
Why our oval chainrings work
Our Oval chainrings work because a rider does not produce power evenly through a pedal stroke; they maximize the part of the stroke where power is produced and minimize resistance where it isn't. Oval rings make the spin cycle a lot smoother and are easier on legs while climbing. Believe it (or not), but a round chainring doesn't transfer torque to your rear wheel as smoothly as an Oval one. You will actually feel your stroke to be more "round" with an Oval shape than with a round chainring.
Why it matters
Traction, Traction and Traction. With oval rings rear tire traction improves greatly on loose and slippery terrain. Smoother power delivery to your rear wheel means that you will be able to maintain better, constant cadence; get less stress on the joints (knees) and therefore be able to keep certain level of effort for longer. This results in higher average speed. Moreover, 11 studies made by various Universities in the World show that using oval chainrings human legs utilize more muscle groups (compared to round one), but each of them to lesser degree. Load from pedaling an oval chainring is spread over greater muscle mass which in effect gives you the feeling of fresher and more relaxed legs. It is world's finest oval chainring backed by tens of thousands of customers.
How to mount E*thirteen Oval chainring:
Full instruction with photos can be found here:
E*thirteen mounting instruction of a chainring
You will need E*Thirteen BB Install/Spider Removal Tool first. With this tool you need to simply open the lockring that holds the chainring on the crank. It's best to clamp that tool in a vice and Turn the crank counter-clockwise (looking from the top). Once the lockring is removed, take off old chainring and re-grease the splines on the crank. Place new oval chainring with convex side to the crank, but at the same time observing the small dimple (located next to spline interface) to be aligned with center of the crank arm. This is crucial to obtain correct chainring position. Now, place the lockring back. Since you will not be able to use torque tool, please do the following steps: Screw the lockring to the point where it starts to give you bigger resistance (as it touches the chainring now). From this point rotate the crank arm further by about 90 degrees. This will give you proper 30Nm locking force. Done
Oval (elliptical) chainring does not compromise the work of clutch mechanism in rear derailleur(video at the bottom). It also does not require chain tensioner when using in singlespeed application. These chainrings also help you to recover after knee injuries as pedaling becomes smoother and less exhausting. It is the most advanced oval chainring currently on the market.
If you wish to check for frame clearance with new oval ring, below you can find measurement of biggest dimension of the oval (tip to tip of tooth):
30T: 134mm ; 32T: 143mm
The importance of timing and shape with oval chainrings
The oval chainring movement across all cycling disciplines is growing rapidly, led by absoluteBLACK, the world leaders in this important product category.
However, not all oval chainrings share the same performance characteristics as absoluteBLACK. The 'clocking' (timing) and shape of the oval are the most crucial parts of any oval chainring design, absoluteBLACK spent three years in design development and have perfected both timing and shape design elements - ensuring the ride quality of absoluteBLACK oval ring will be different and superior to ovals from other brands (as many abosluteBLACK customers already realised).
Where most other brands retain the same timing (position of the crank arm relative to the oval) and shape of the oval across all their sizes - because it's cheaper and less time consuming. absoluteBLACK believe that each different size ring requires a bespoke, optimised, perfect pedalling solution. So that is what we do - for every chainring absoluteBLACK make. For example, the smaller the chainring size, the bigger the ovality has to be to help climb steeper hills more effectively. We keep our exact Patent Pending data a secret, to ensure we get the best possible absoluteBLACK advantage over other brands, and you get the best possible ride experience.
Our longterm belief in oval and development of our design, has led absoluteBLACK to become the most commercially successful oval chainring product in the world. So keep in mind that not every oval chainring is equal to an absoluteBLACK.
absolute black chainring components on facebook
Designed in UK. Manufactured in Poland (EU).