Premium OVAL ROAD 2X CHAINRING FOR ALL FSA ABS CRANKS 4 & 5 bolt
Availability
In Stock
Bolt covers are only for K-Force cranks
absoluteBLACK Premium Oval chainrings for FSA ABS (asymmetric bolt spacing) cranks like Gossamer, SL-K, K-Force. This model fits all 4 and 5 bolt design cranks. 4&5 bolt cranks are identical except the one hidden bolt behind the crank arm in 5 bolt design which is not needed. These are finest FSA compatible chainrings on the market in terms of shifting, stiffness, smoothness of pedaling and manufacturing quality. 10/11/12spd compatible. Di2 Compatible. Made in EU
Size (Mass +/-1g):

34T (32g), 36T (33g), 38T (38g), 39T (41g), 50T (115g), 52T (132g), 53T(134g)

Color

Black only

Compatibility

All FSA ABS (asymmetric bolt spacing) cranks like Gossamer, SL-K, K-Force, K-Force Light. Both 4 and 5 bolt versions. One model fits them all. Di2 Compatible. 10 / 11 / 12spd compatible. ABS cranks only.

BOLTS

For Gossamer - use original FSA bolts and spacers

For SL-K - use original FSA Bolt Covers and bolts

For K-Force - purchase absoluteBLACK bolt covers (necessary!)

Material & Finish

cnc machined 7075 Txxx Aluminum. Long-lasting construction. Type II anodizing

Ovality

Optimized to each size separately. 34T- 3.5% ; 36T, 38T, 39T- 11.4%, 50/52/53T - 10-11.2% ; Timing of 108 -110.5° after TDC (top dead center) - Ideal for road climbing. Patent Pending
IMPORTANT
For Gossamer cranks - use original FSA bolts and spacers. There is nothing else needed to mount these rings
For SL-K - use original FSA Bolt Covers and bolts that will fit perfectly. There is nothing else needed to mount these rigns
For K-Force - purchase additionally absoluteBLACK bolt covers. This is Absolutely necessary as you will not be able to mount these chainrings to K-Force otherwise.
Ramps on big rings are specially configured for combinations: 50/34, 52/36, 52/38, 53/39T
If you wish to use other configuration it will also work, but shifting will be slower and may require more "adjustments" of front dérailleur to be acceptable. Also remember that front dérailleur can only accept max 16T difference between 2 chainrings - this is how Shimano and Sram designed them.
Advantages of Absolute Black Road Oval chainrings:
*One of a kind special oval shape that helps you climb easier and faster (Patent Pending)
*Over 15% stiffer than Rotor Qrings due to thicker, 5mm construction
*Bespoke Absolute Black 6 point ramp and recess shifting design shifts better than any other brand and model of oval chainring
*Finest design that provides excellent strength to weight ratio
*You will not "feel" the oval shape while pedaling
*Your pedaling action will feel smoother
*Helps reduce stress on knees and helping your legs remain fresher for longer
*You will be able to maintain better cadence while climbing
*Reduces possibility of leg cramps
*You will reduce chainring/cog shifts by at least 15%
What size should I choose?
* 34T inner chainring should be used with 50T outer ring. It has 3.5% ovality. Use a 34T to help with spinning higher cadence and hilly terrain.
* 36T inner chainring can be used with 50 or 52T outer ring. It has 11.4% ovality. Use a 36T if you're a strong rider or for rolling terrain.
* 38T inner chainring should be used with 52T outer ring. It has 11.4% ovality. Use a 38T if you're a very strong rider or for flat terrain.
* 39T inner chainring should be used with 53T outer ring. It has 11% ovality. Use a 39T if you're a very strong rider or for flat terrain.
* 50T outer chainring – Choose this size if you ride for pleasure or sportive events. This is the most versatile and comfortable size.
* 52T outer chainring - if you race and feel strong, it's the classic outer chainring size and a great option for experienced riders.
* 53T outer chainring - if you race and feel very strong, it's the classic outer chainring size and a great option for powerful riders.
Remember when selecting your chainring sizes - it's not about what others use, but about ensuring YOUR ability to maintain a comfortable and effective cadence across the terrain you ride most often. If you ride chainrings that are too large (round or oval), your cadence will be lower. This can affect your performance by prematurely tiring your legs and possibly lead to stress injury in your knee joints.
How to mount absoluteBLACK Oval chainrings to FSA ABS cranks
First, you need to remove your crank from your bike. Once removed, unscrew the 4 bolts that hold two chainrings together with a T-30 torx key. Remove both original rings. Asymmetric bolt design will prevent mounting the rings with the wrong orientation. The bolt holes on the small chainring are recessed – so the bolt heads will sit flush with the surface of the chainring - these recesses should face you when mounting the bolts
For Gossamer - place the big ring first on the spider, then place 4 FSA spacers and then small chainring. Tighten with original FSA bolts
For SL-K- place the big ring first on the outer position of the spider, then place small chainring on the inside of the spider. Use the FSA bolt covers and place them from the front on big ring (they are all identical). Tighten with original FSA bolts
For K-Force Light- place the big ring first on the outer position of the spider, then place small chainring on the inside of the spider. Use absoluteBLACK bolt covers and place them from the front on big ring. Tighten with provided bolts while holding the bolt covers by hand from the other side (this is important to not to damage the bolt covers).
Tighten all four bolts with force of about 5-7Nm. Mount your crank back to the bike. You may also need to adjust the front derailleur slightly.
Absolute Black always recommends using a new chain when fitting new chainrings.
When mounting absoluteBLACK 4 bolt chainring on 5 bolt crank, leave the hidden bolt hole empty or patch it with waterproof grease. This hole is not important hence FSA removed it with new version of cranks.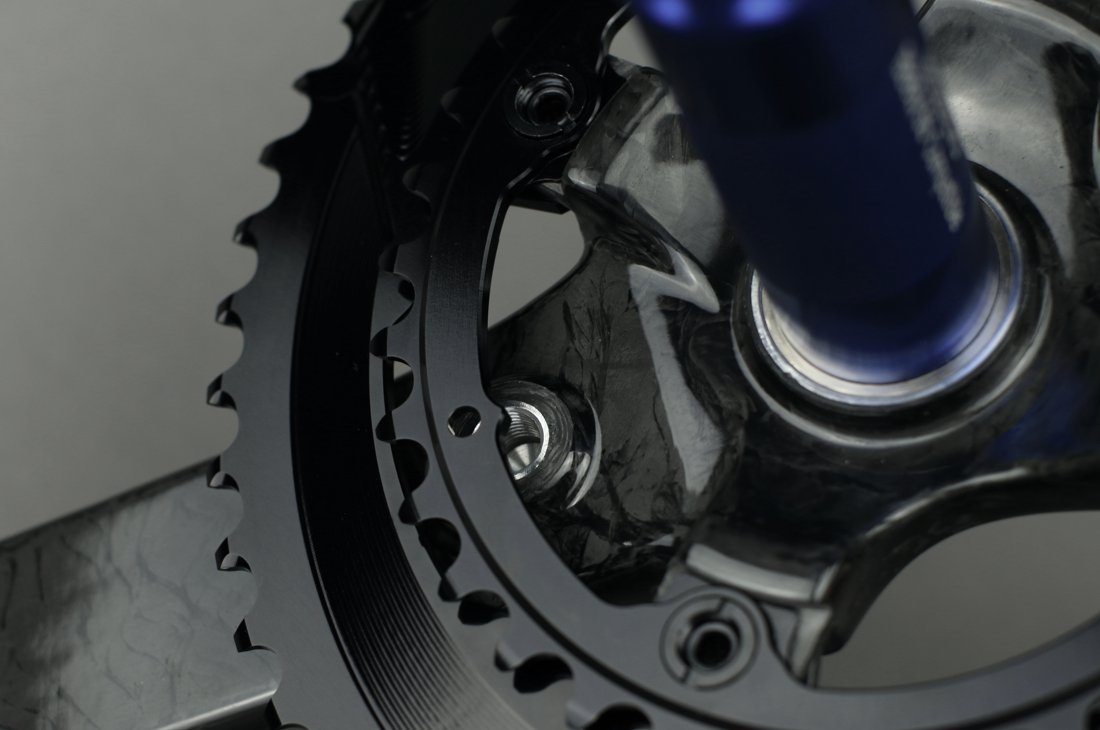 How to adjust front derailleur with absluteBLACK Road Oval chainrings
To proceed with the adjustment you will need 2mm and 5mm allen keys.
Trouble shooting:
*If your derailleur overshifts the chain when moving from small ring to the big ring, it means your "gap" is greater than 2mm when chain is on big chainring (see video). You may need to reduce the gap. Your front derailleur may also be too high compared to what is advised on the video. Last thing to check is if your cage is parallel to the big chainring face.
*If your front derailleur is hesitating to shift from small to the big ring then two issues may be present. The "gap" may be too small (It has to be 2mm - see video) or your cage is not parallel to the big chainring face.
Why our oval chainrings work
Our premium Oval chainrings work because riders do not produce power evenly through a pedal stroke –the musculature of human legs makes it difficult to maintain an even power delivery to a round chainring. Believe it (or not), but a round chainring doesn't transfer torque to your rear wheel as smoothly as an Oval one. Oval rings work with the natural human physiology. Oval chainrings maximize the part of the stroke where power is produced and minimize resistance where it isn't. As a direct consequence, Oval rings enhance a cyclist's ability to spin with a smoother power delivery and feel easier on legs while climbing. You will actually feel your pedal stroke to be more "round" with an Oval chainring than with a round chainring.
Why using AbsoluteBlack oval chainrings matters
Absolute Black oval road chainrings deliver power more smoothly to your rear wheel. This means you are better able to generate and maintain, constant cadence. Because oval chainrings reduce the peak loads on knee joints, riders using them get less stress on the joints (knees) and therefore are able to keep certain level of effort for longer. This results in higher average speed. You don't need to take our word at Absolute Black; 11 scientific studies by leading universities around the globe show that; in comparison to round chainrings, when using oval chainrings, human legs utilize more muscle groups - but each of them to lesser degree. The overall Load from pedalling an oval chainring is spread over greater muscle mass. This has three key benefits; firstly, it gives you the feeling of fresher and more relaxed legs. Secondly; it allows you to achieve higher average speed riding uphill. Thirdly; spreading the pedalling load over more muscles reduces the risk of cramp, even when riding hard. The compound effect of switching to oval chainrings; the relaxed legs, added climbing ability and reduction of cramp means your overall enjoyment of the ride is enhanced.
MSRP: from £39.99

......
All Absolute Black products are designed in UK and manufactured in Poland (EU) to the highest standards of quality.
Word on BIOPACE - Please understand Absolute Black's oval design IS NOT 'Biopace' technology. Shimano created their non-round Biopace chainrings with a completely different orientation of the biggest radius of the oval. Their ring orientation has since been widely accepted as being fundamentally wrong. Instead of positioning it in power zone - which is slightly below the level of the crank - they clocked it to the dead zone where human physiology generates least power. The result was that in power zone pedalling was too easy and in dead zone too hard, causing knee pain and lumpy pedalling cadence. Exactly opposite to how it should be. The opposite of how it is with an Absolute Black oval chainring fitted to your bike.
The importance of timing and shape with oval chainrings
The oval chainring movement across all cycling disciplines is growing rapidly, led by absoluteBLACK, the world leaders in this important product category.
However, not all oval chainrings share the same performance characteristics as absoluteBLACK. The 'clocking' (timing) and shape of the oval are the most crucial parts of any oval chainring design, absoluteBLACK spent three years in design development and have perfected both timing and shape design elements - ensuring the ride quality of absoluteBLACK oval ring will be different and superior to ovals from other brands (as many abosluteBLACK customers already realised).
Where most other brands retain the same timing (position of the crank arm relative to the oval) and shape of the oval across all their sizes - because it's cheaper and less time consuming. absoluteBLACK believe that each different size ring requires a bespoke, optimised, perfect pedalling solution. So that is what we do - for every chainring absoluteBLACK make. For example, the smaller the chainring size, the bigger the ovality has to be to help climb steeper hills more effectively. We keep our exact Patent Pending data a secret, to ensure we get the best possible absoluteBLACK advantage over other brands, and you get the best possible ride experience.
Our longterm belief in oval and development of our design, has led absoluteBLACK to become the most commercially successful oval chainring product in the world. So keep in mind that not every oval chainring is equal to an absoluteBLACK.
Cranks visible on the photos are not included to the purchased chainrings.
The World's finest oval (elliptical) road chainring. Non circular chainrings, Non-round chainrings. Asymmetrical chainrings.