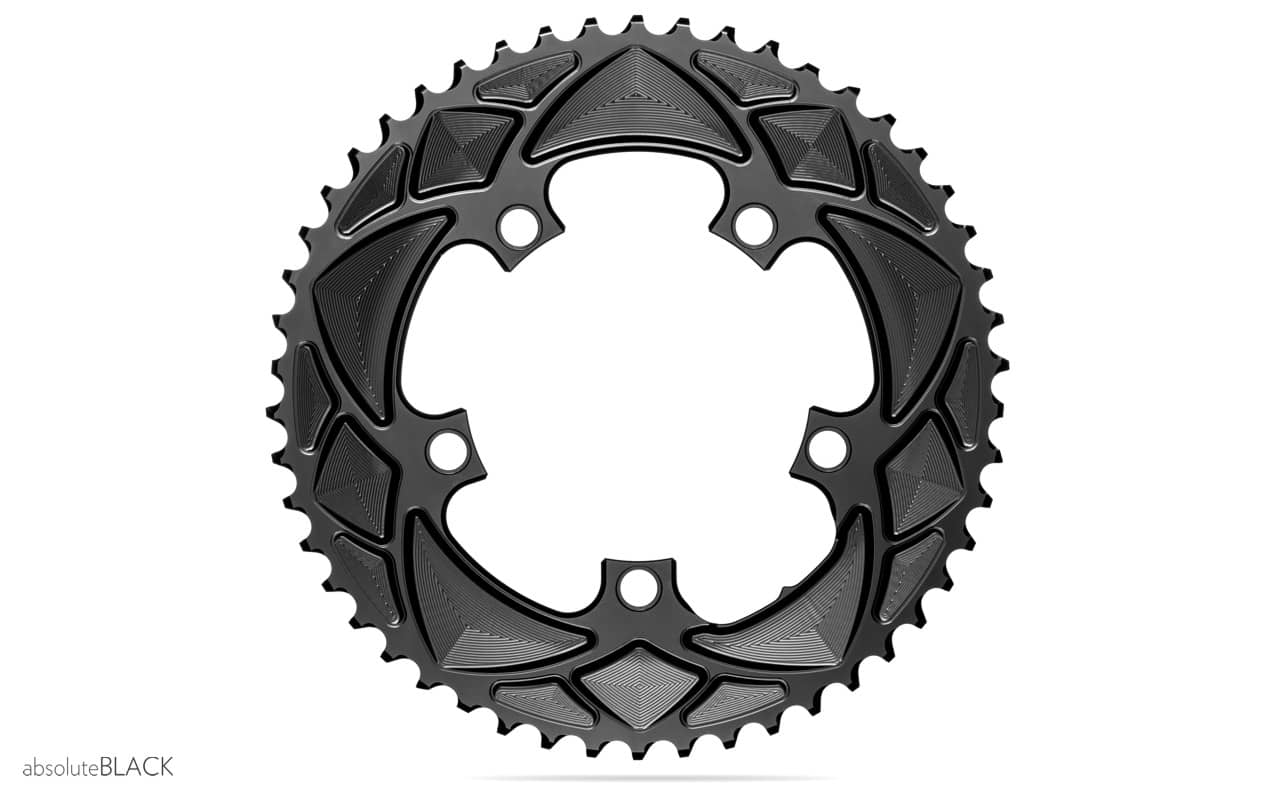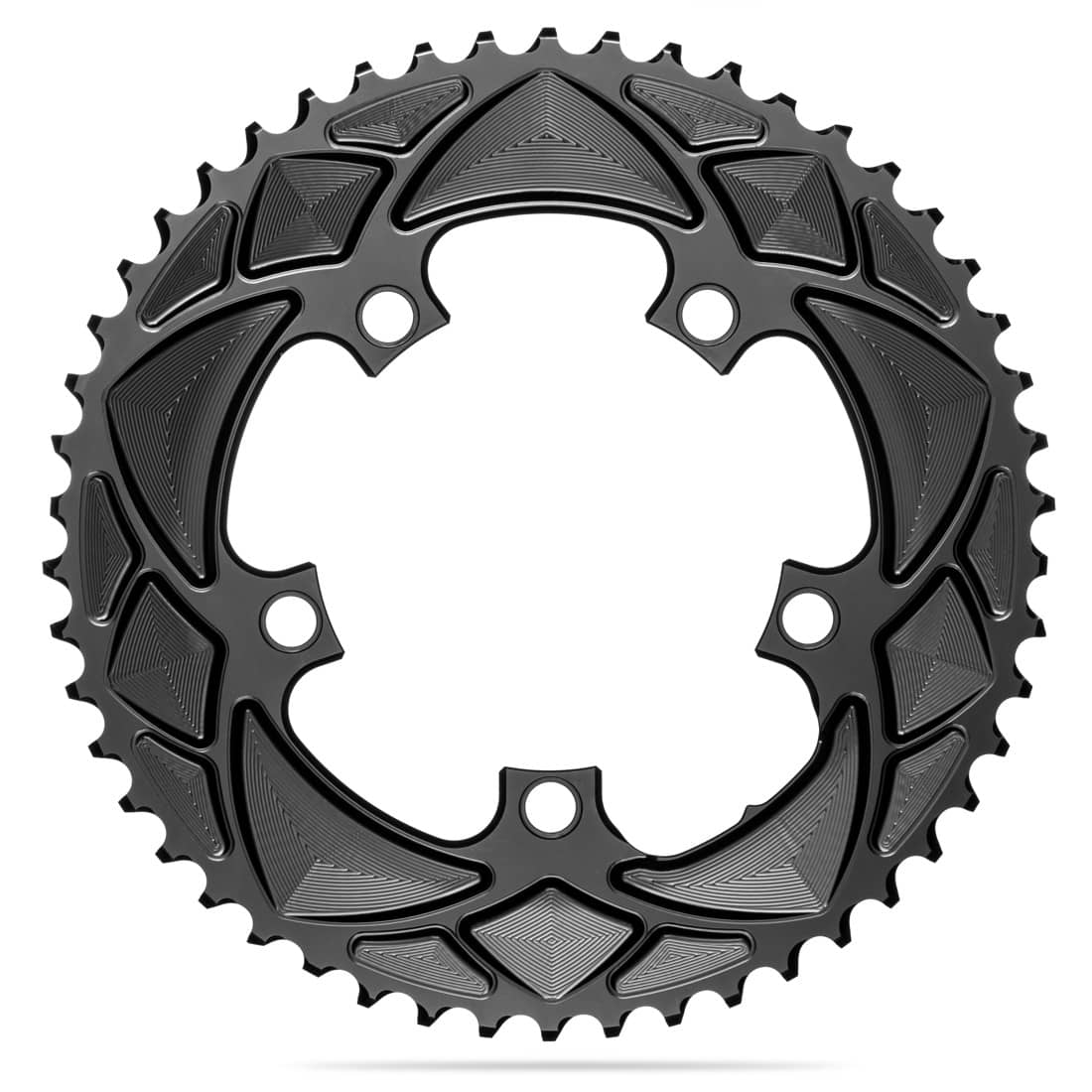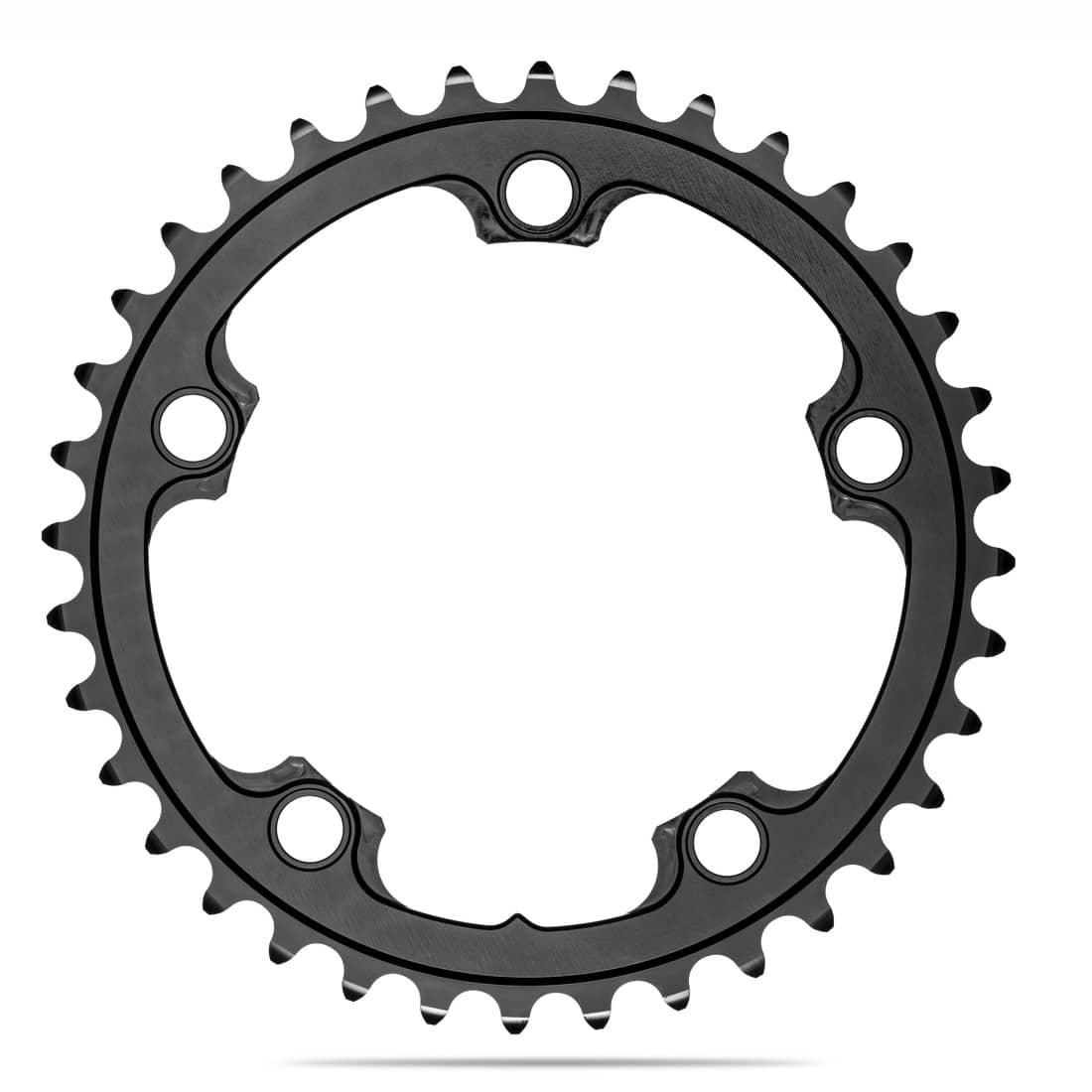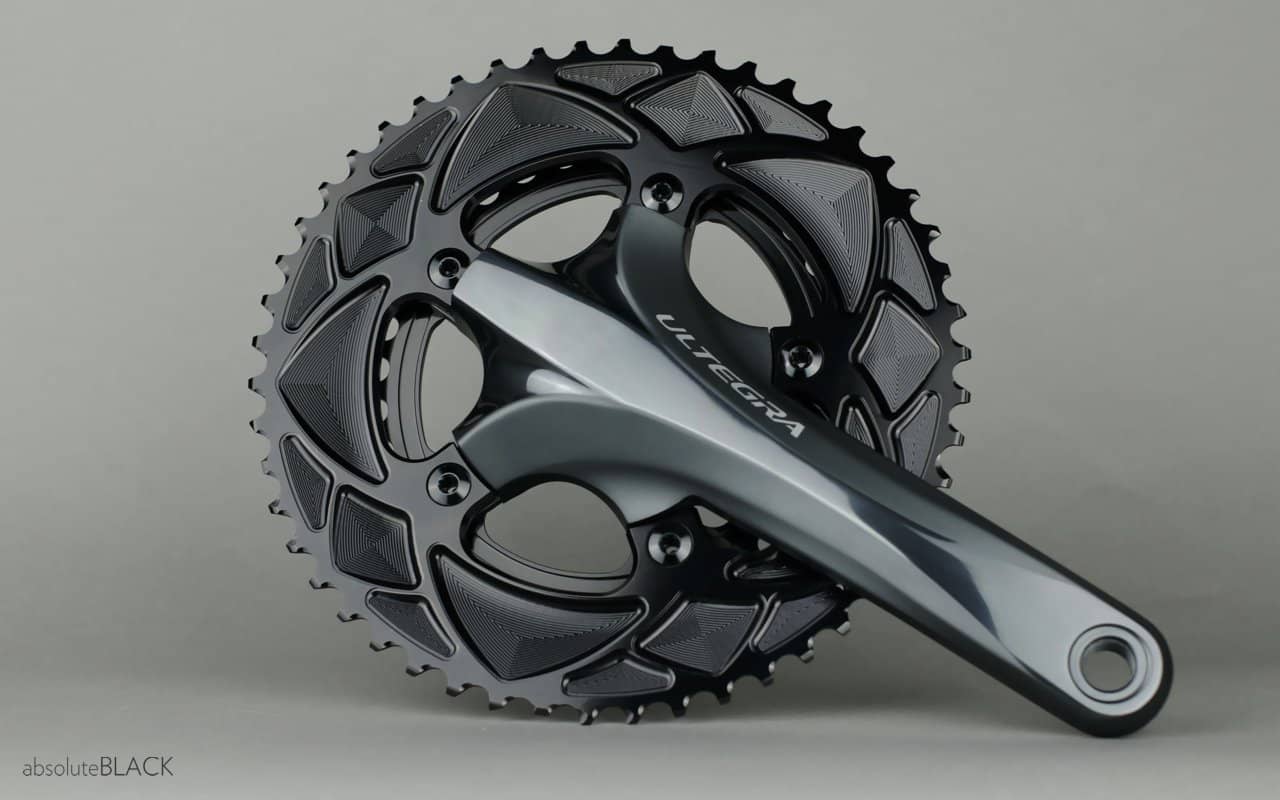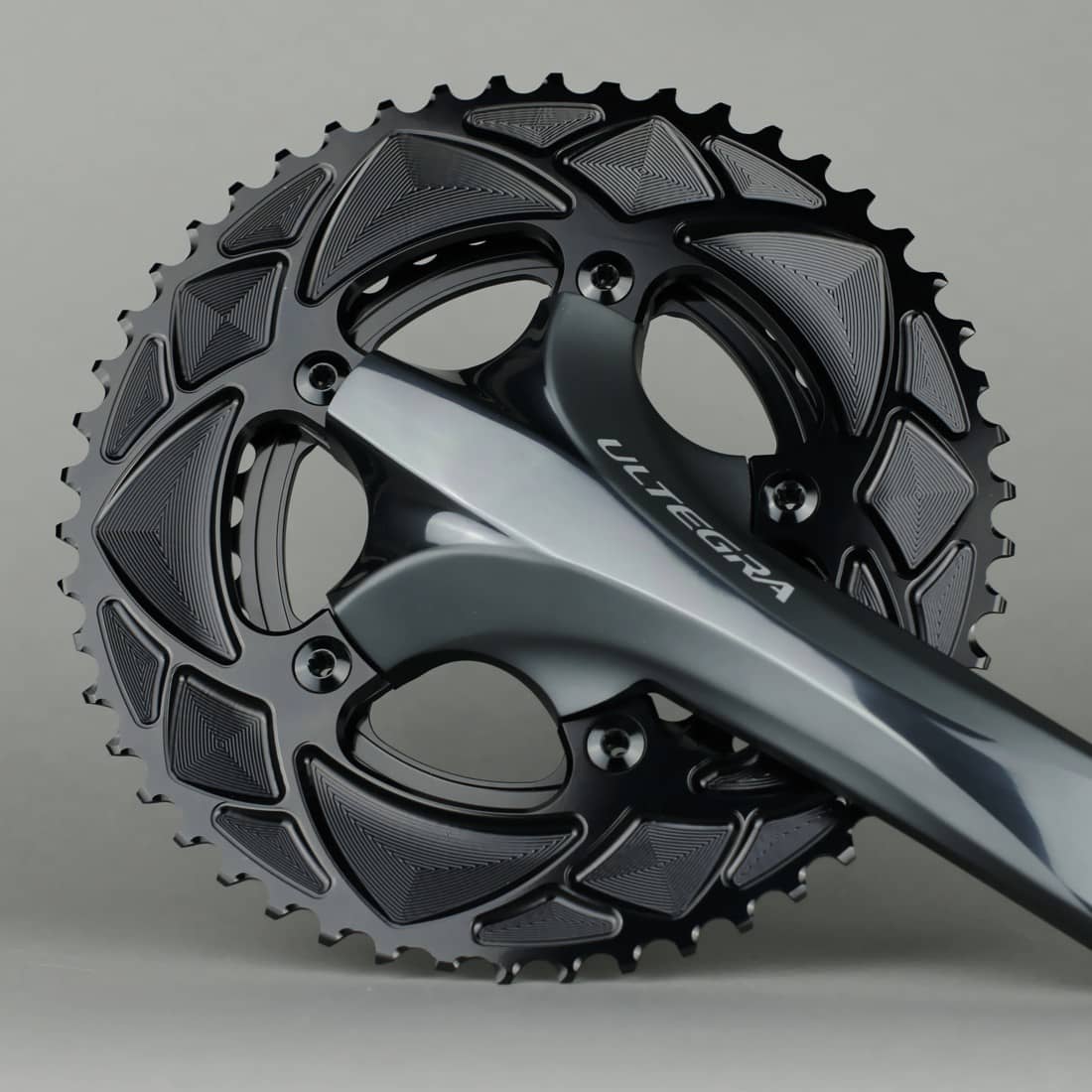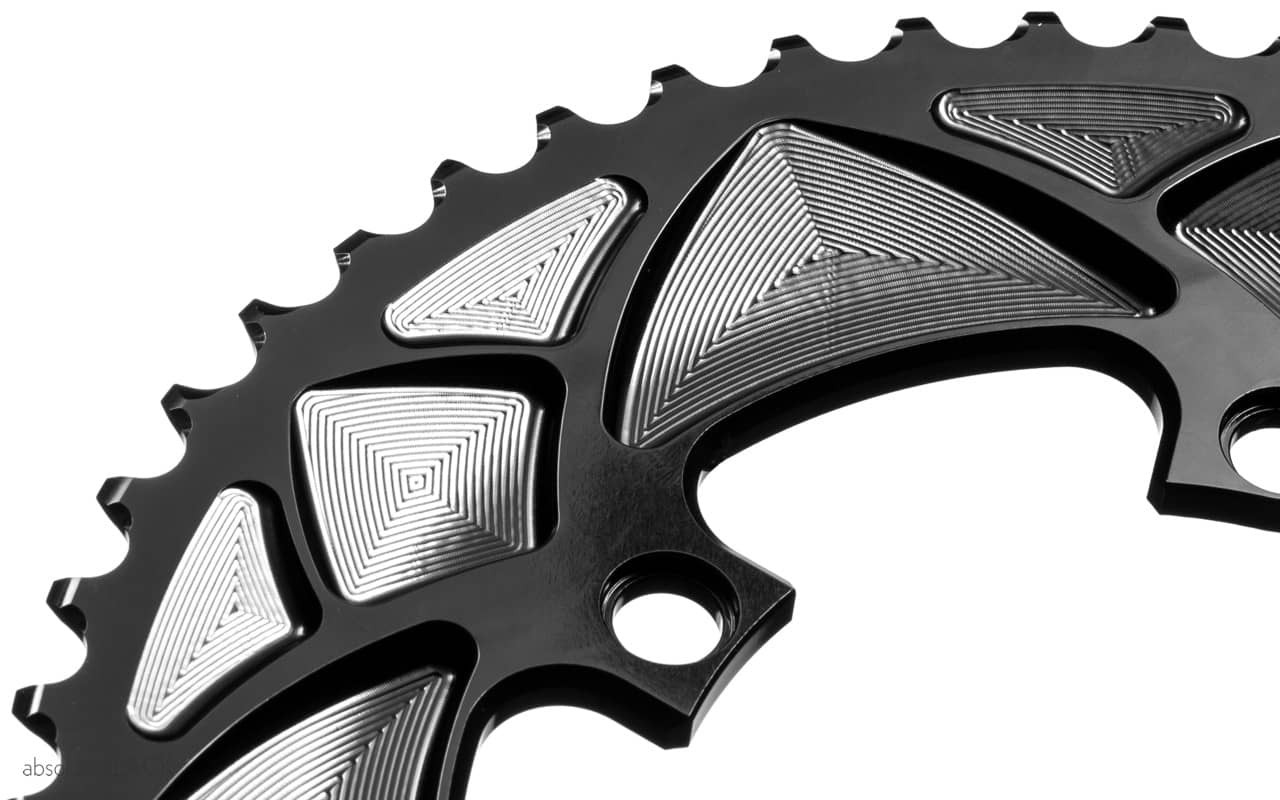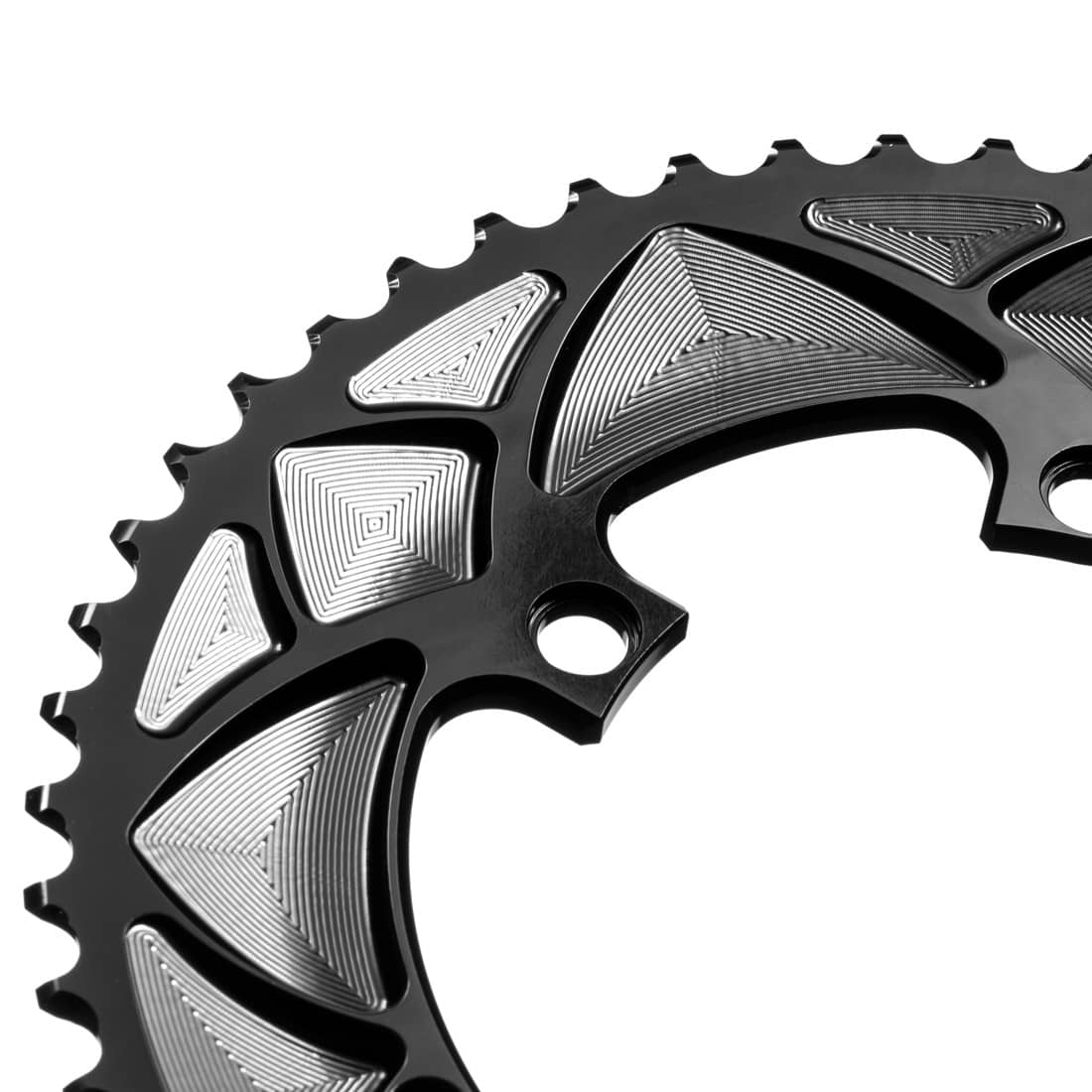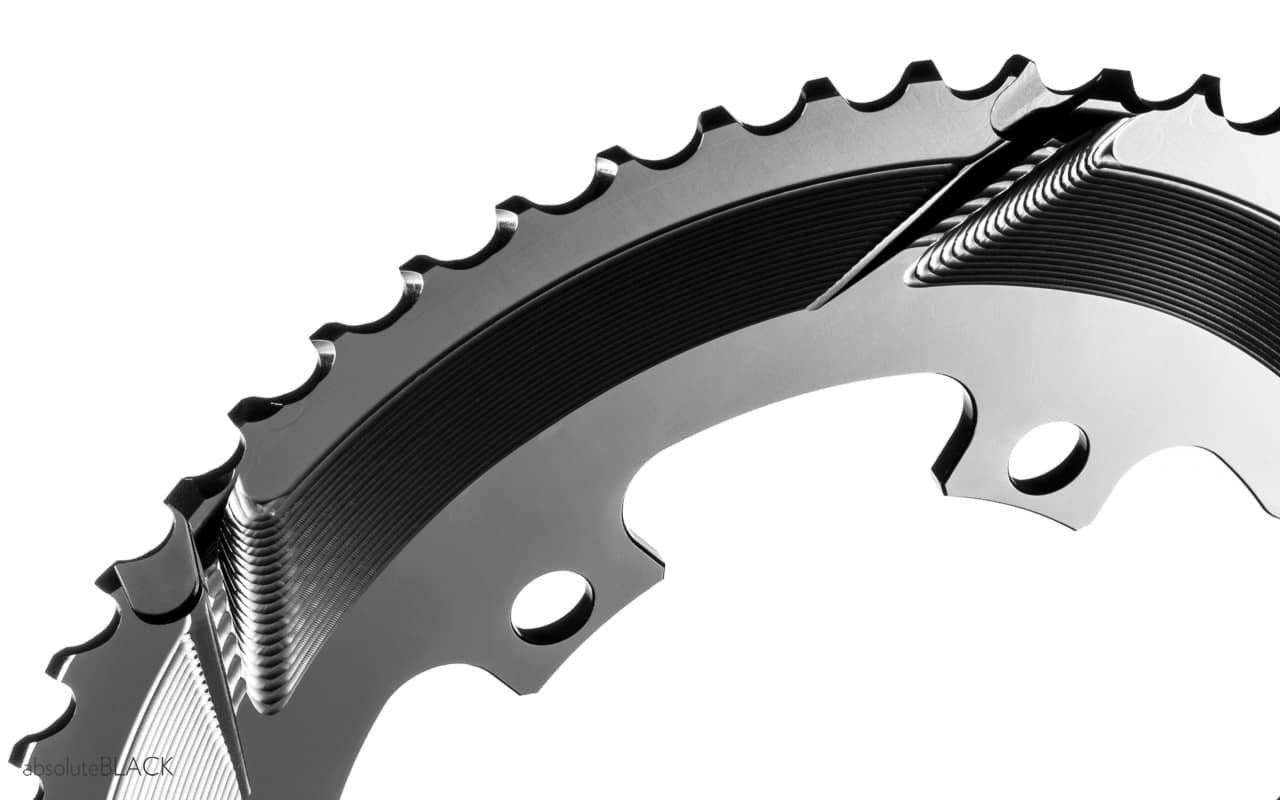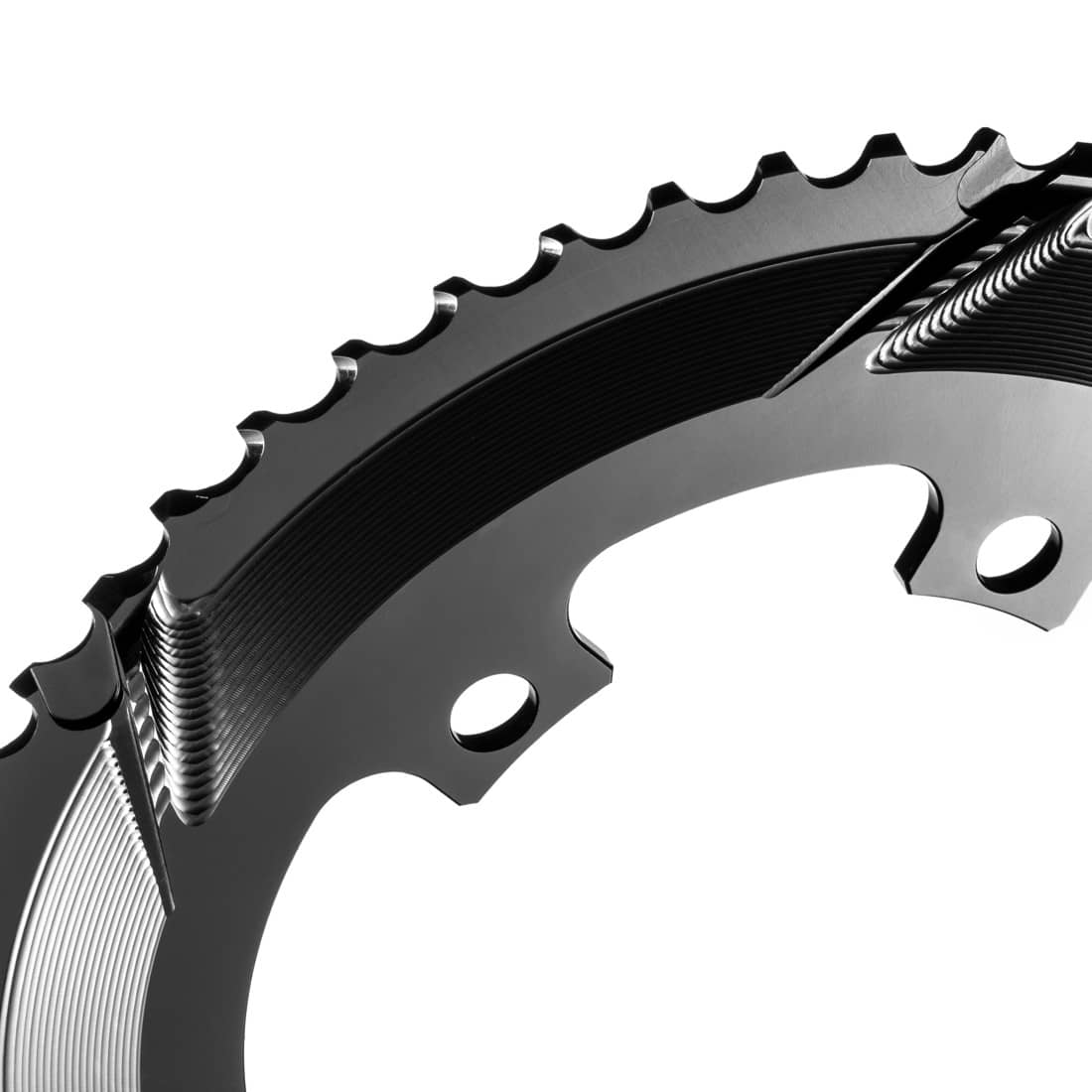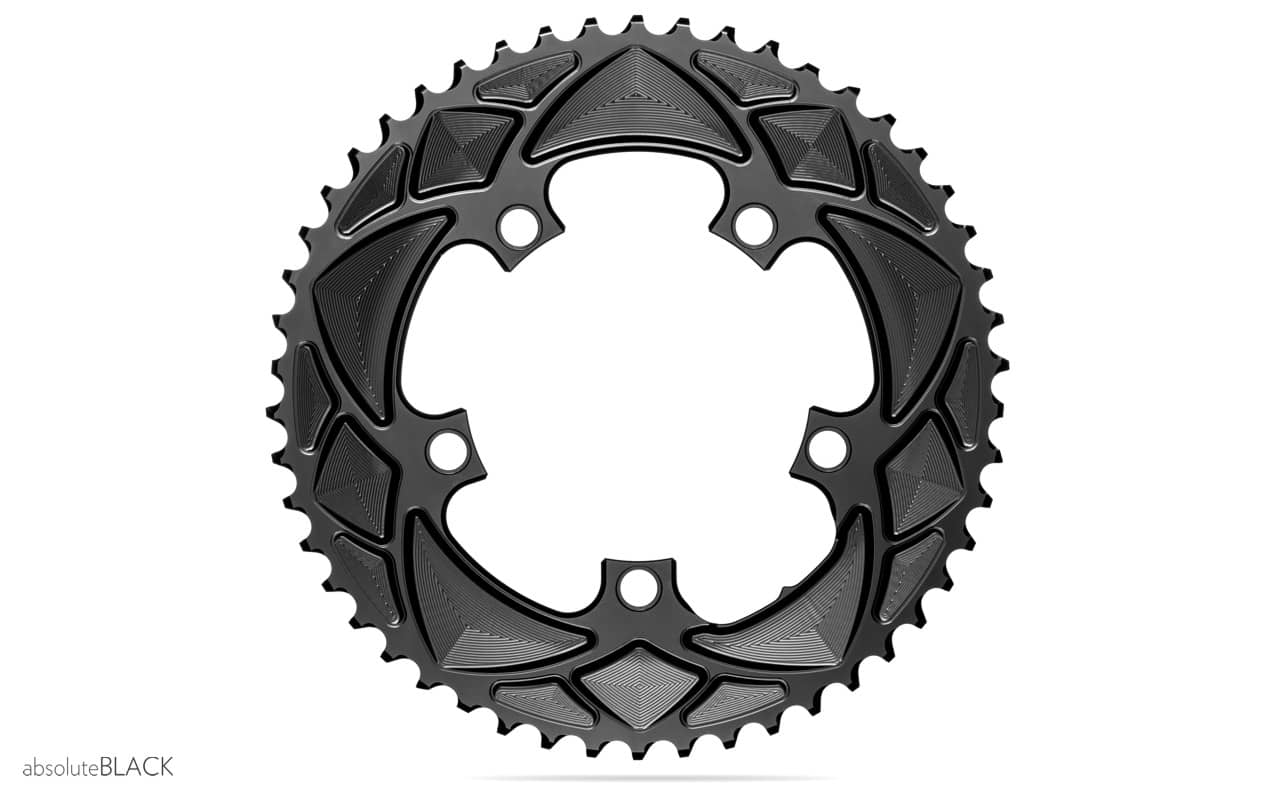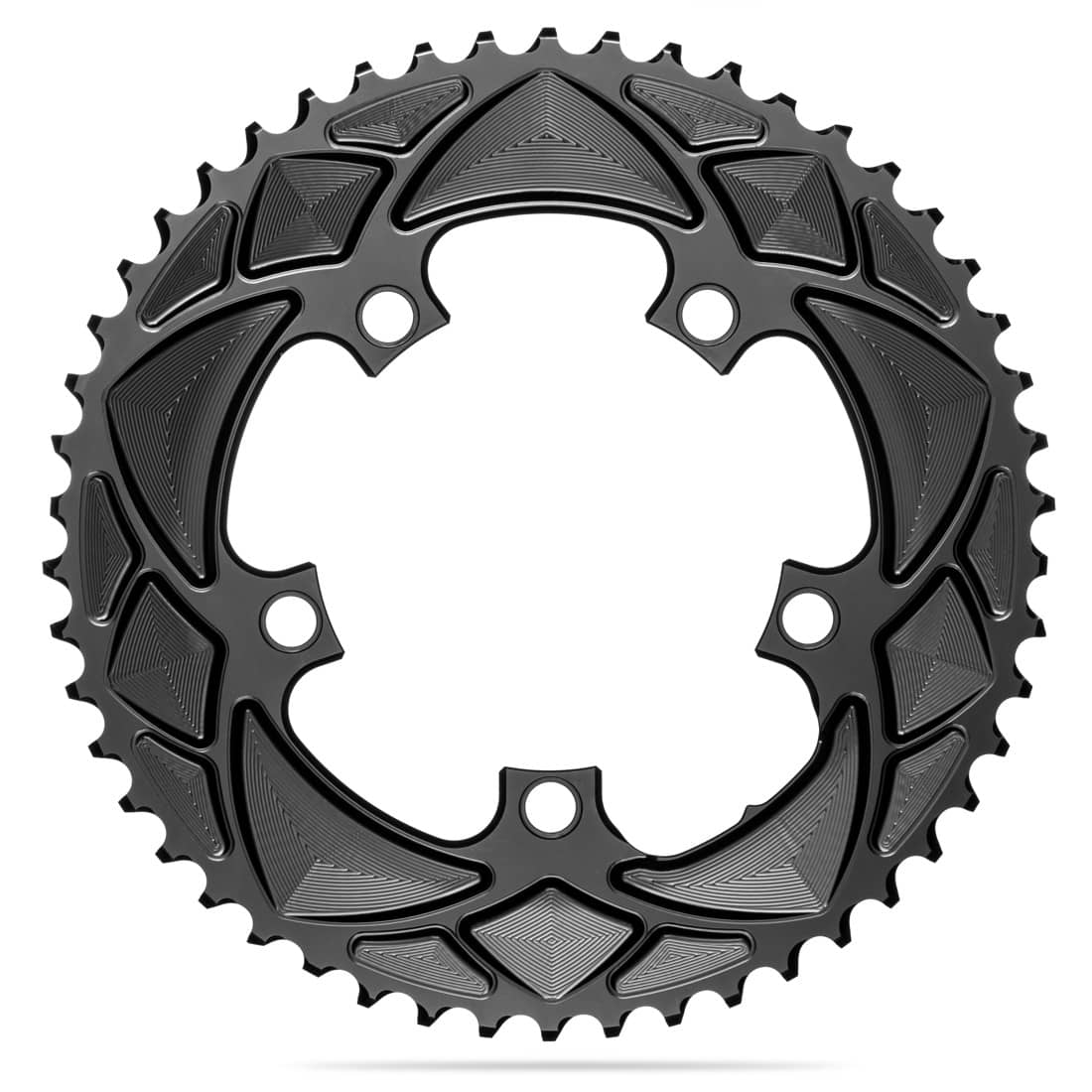 premium ROUND ROAD 2X 110/5BCD chainring
Availability
Don't wait, order now.
Thanks for your rating.

Do you like this product? Share it with your friends!
absoluteBLACK Premium Shimano 110/5 bcd compatible ROUND chainrings are designed for cranks like Shimano Dura-Ace FC7950, Ultegra FC6750, Shimano 105 -5750 and many more with 5 bolt fitting. These are finest round aftermarket chainrings in terms of shifting, stiffness and manufacturing quality. 10/11spd compatible. Made in EU
I love how well they shifting
" I'm absolutely impressed how well they shift, which was my biggest fear."
Size (Mass +/-1g):

34T (31g), 36T (38g), 38T (44g), 50T (118g), 52T (133g)

Color

Black, Grey (inner ring in black only). Bolts in black only.

Compatibility

Shimano Dura-Ace 7950, Ultegra 6750, Shimano 105- 5750, Tiagra 4650, FSA, Praxis, Rotor 3D & 3D+, S-works and many more 5 bolt cranks. Also fits Sram Force and Red but NOT compatible with Sram cranks that have 1 hidden chainring bolt (Force22, Red22). Compatible with Di2. 10 / 11 spd compatible. Not for Shimano HG+ or SRAM Flat Top chains

IMPORTANT

If you currently use 53/39T chainrings you have 130BCD cranks (not 110bcd). In this case please look at our 130BCD chainrings as you will not be able to use anything smaller than 53/39T.

BOLTS

For Outer chainring please order Long bolts

Changing Inner chainring only? use original bolts

Material & Finish

cnc machined 7075 Txxx Aluminum. Long-lasting construction, type II anodizing
IMPORTANT

*Ramps on big rings are specially configured for combinations: 50/34, 52/36, 52/38

* If you wish to use other configuration it will also work, but shifting will be slower and may require more "adjustments" of front dérailleur to be acceptable. Also remember that front dérailleur can only accept max 16T difference between 2 chainrings - this is how Shimano and Sram designed them.

*Absolute Black always recommends using a new chain when fitting new chainrings.
Advantages of Absolute Black Road Round chainrings:

*One of a kind look
*Super stiff design due to thicker, 5mm construction
*Bespoke Absolute Black 4 / 6 point ramp and recess shifting design shifts as crisp as original
*Finest design that provides excellent strength to weight ratio

How to mount 110/5bcd round chainring:

First, you need to remove your crank from your bike. Once removed, unscrew the 5 bolts that hold two chainrings together with a T-30 torx key. Remove both original rings. Locate the new inner chainring with the triangular timing indicator positioned behind crank arm. The bolt holes on the small chainring are recessed – so the nut heads will sit flush with the surface of the chainring - these recesses should face you when mounting the bolts. Absolute Black outer chainrings have also triangular timing indicator - position this indicator behind the crank arm.

If you are only changing the inner chainring - use the original bolts that came with your crank. If you are changing a pair of rings, you will need a set of regular 'double' chainring bolts. Tighten all 5 bolts with force of about 5-7Nm. Mount your crank back to the bike. You may also need to adjust the front derailleur upwards by 2-3mm.





All Absolute Black products are designed in UK and manufactured in Poland (EU) to the highest standards of quality.

Cranks visible on the photos are not included to the purchased chainrings.
Share your Oval chainring photos with us on Instagram: #OvalThis #absoluteBLACK #OVALREVOLUTION