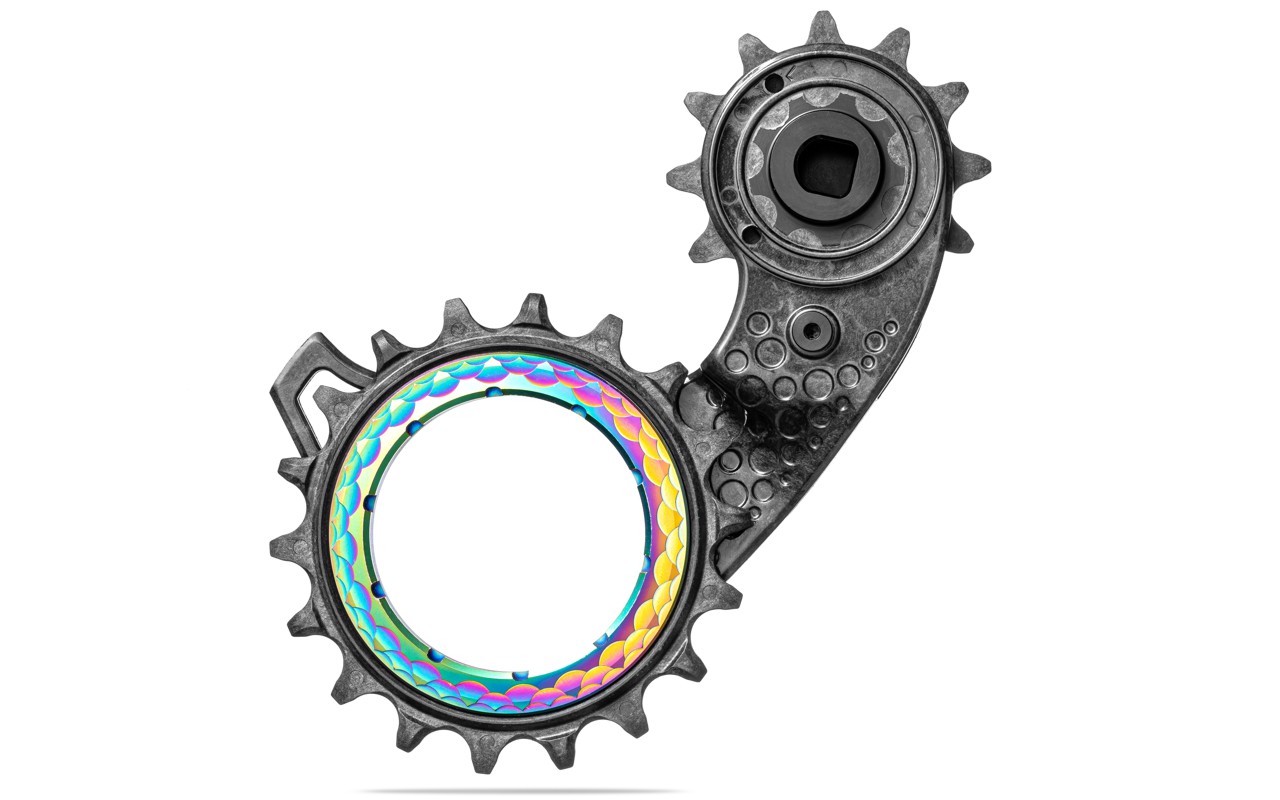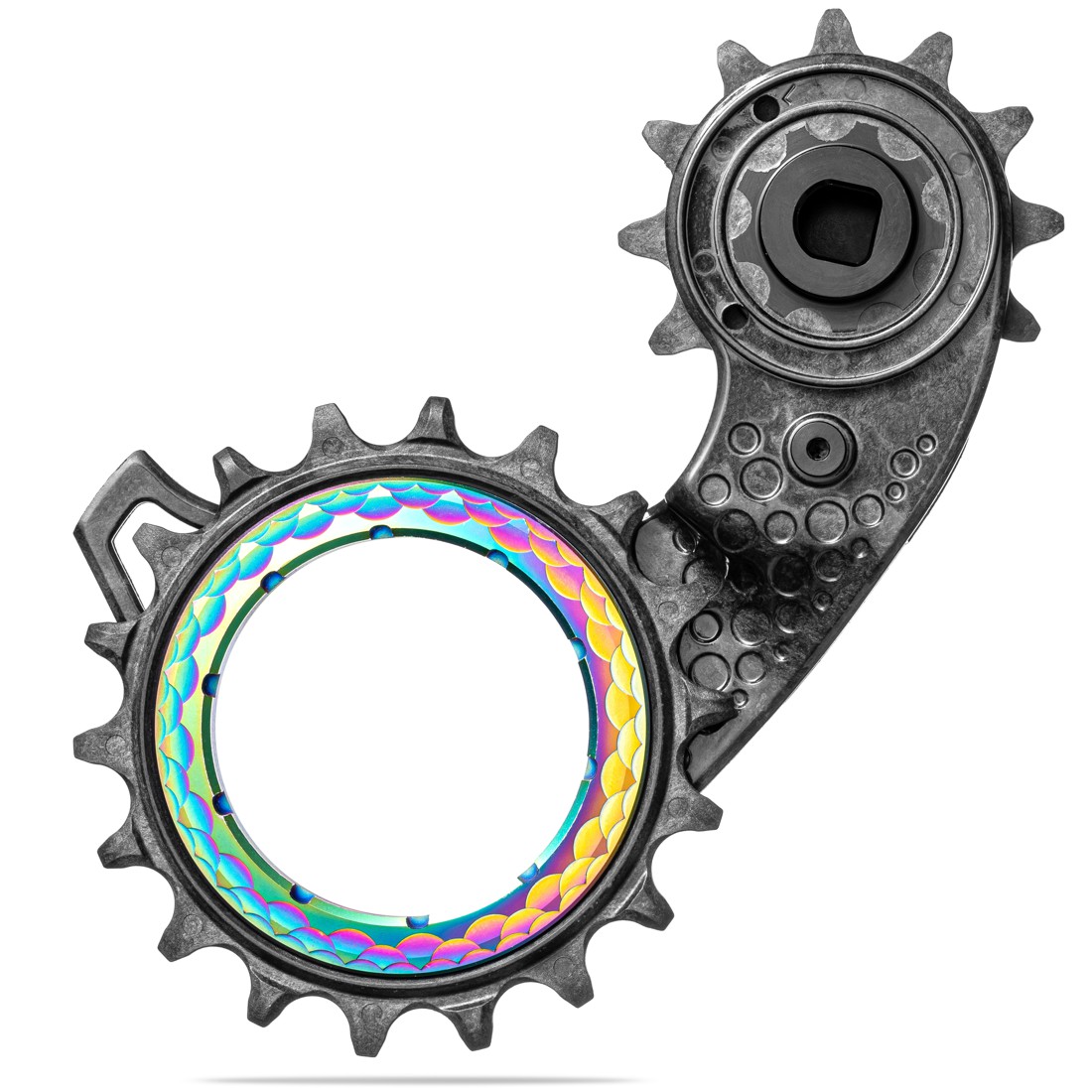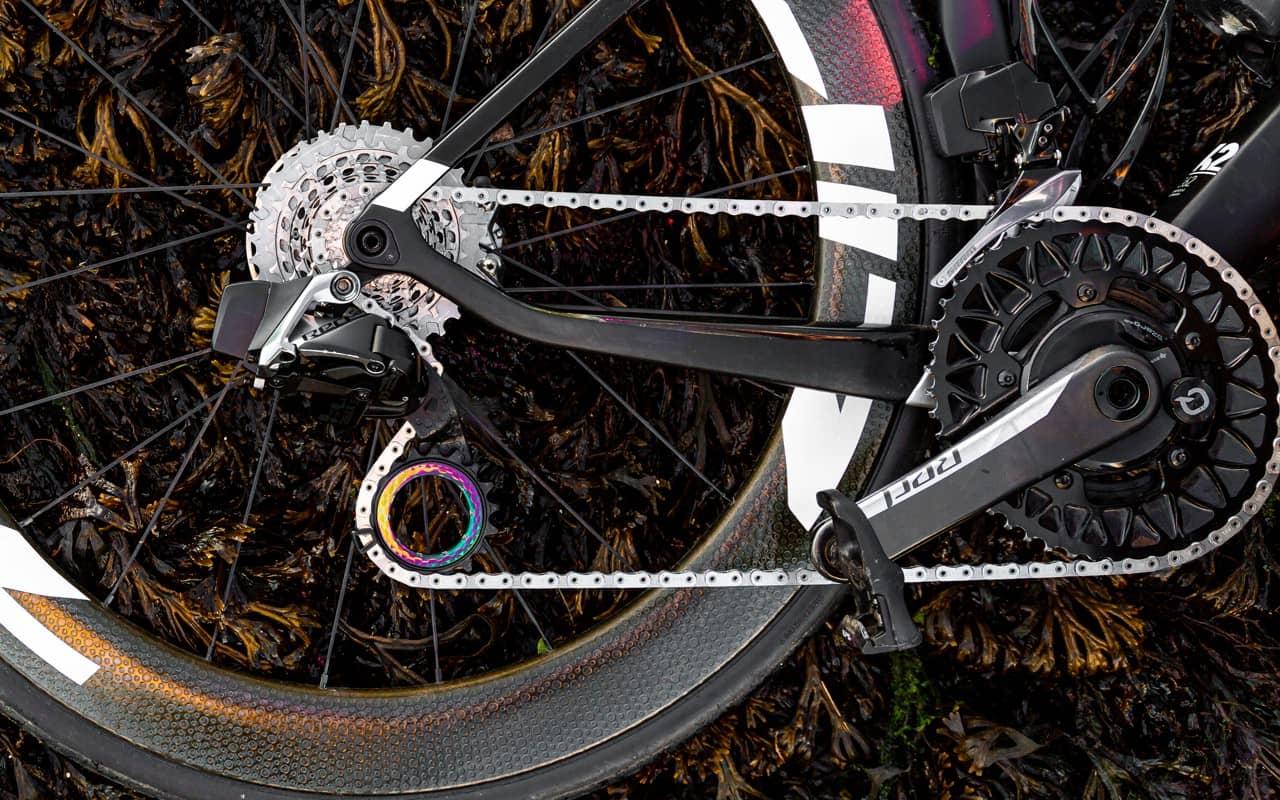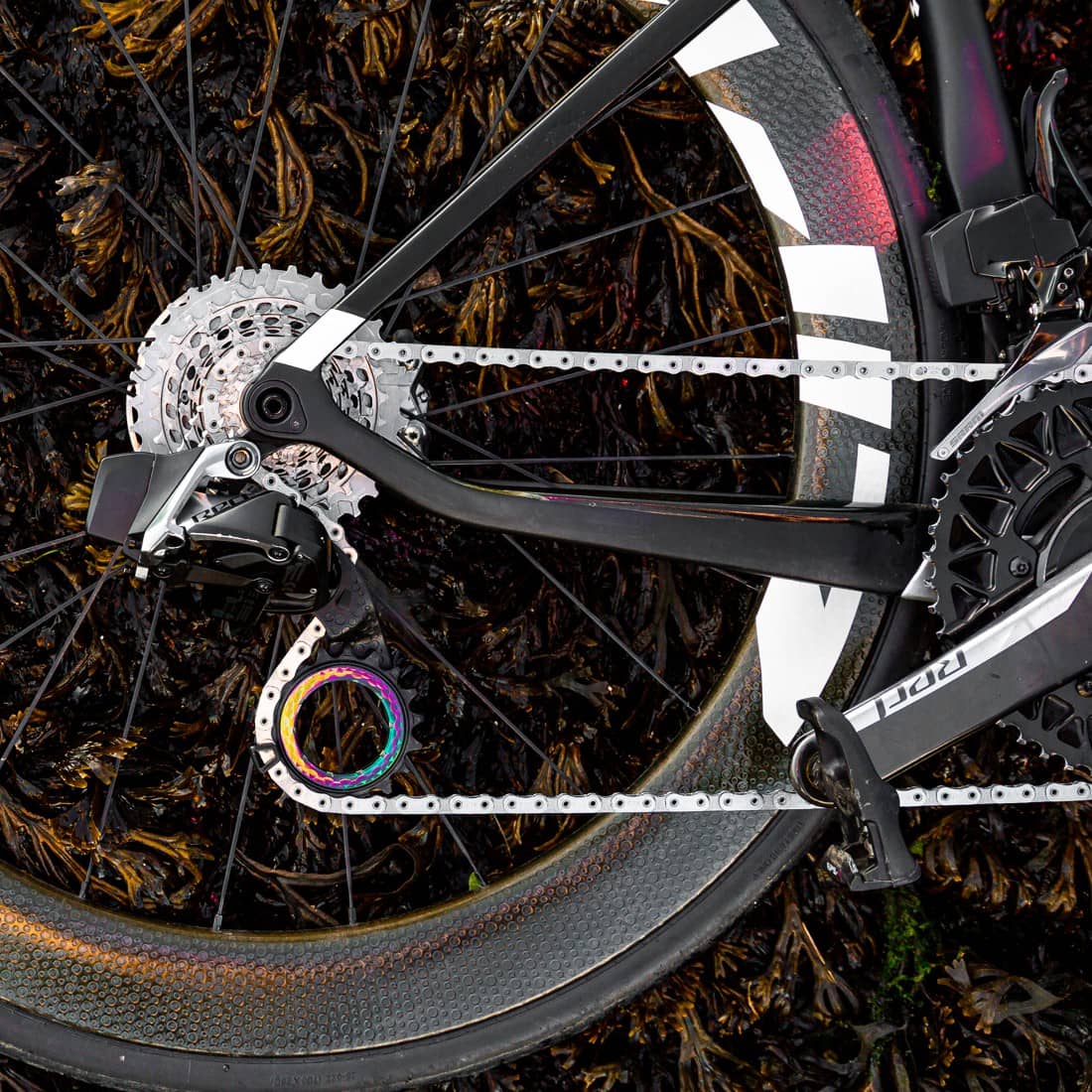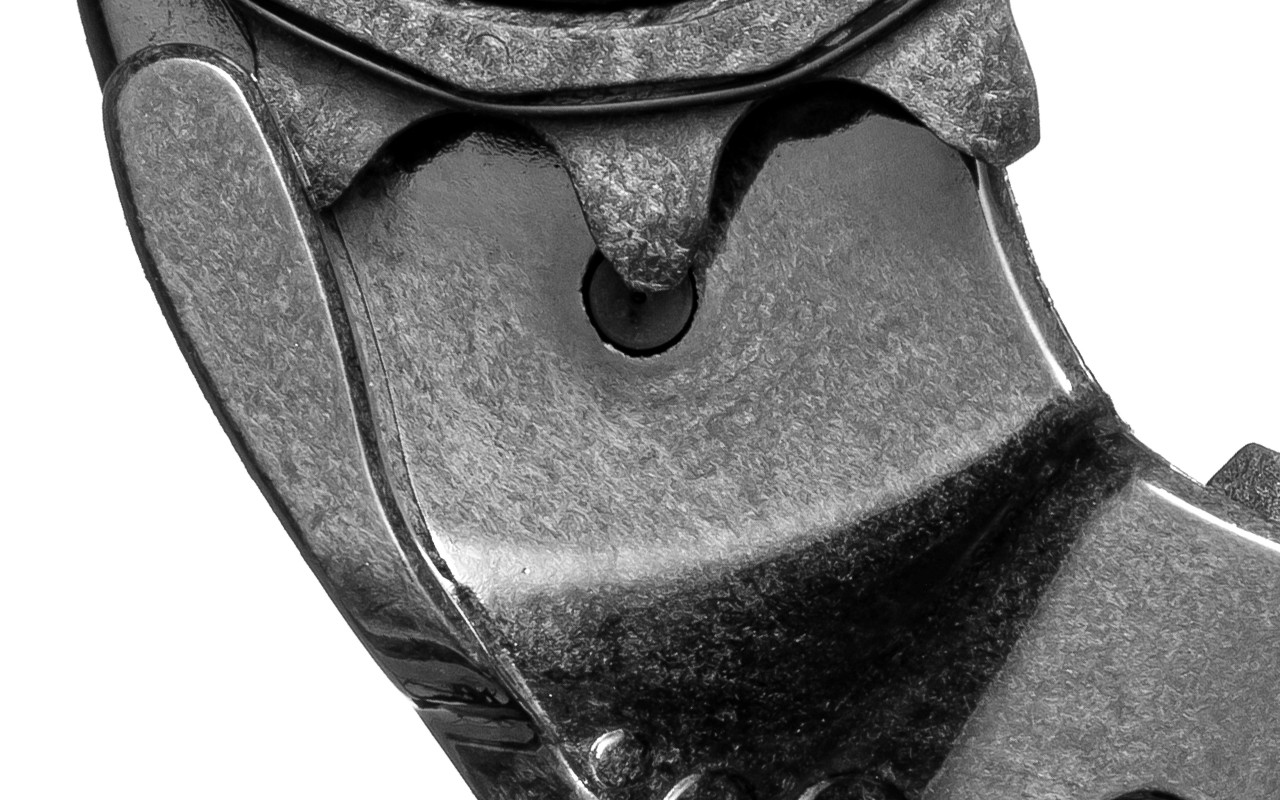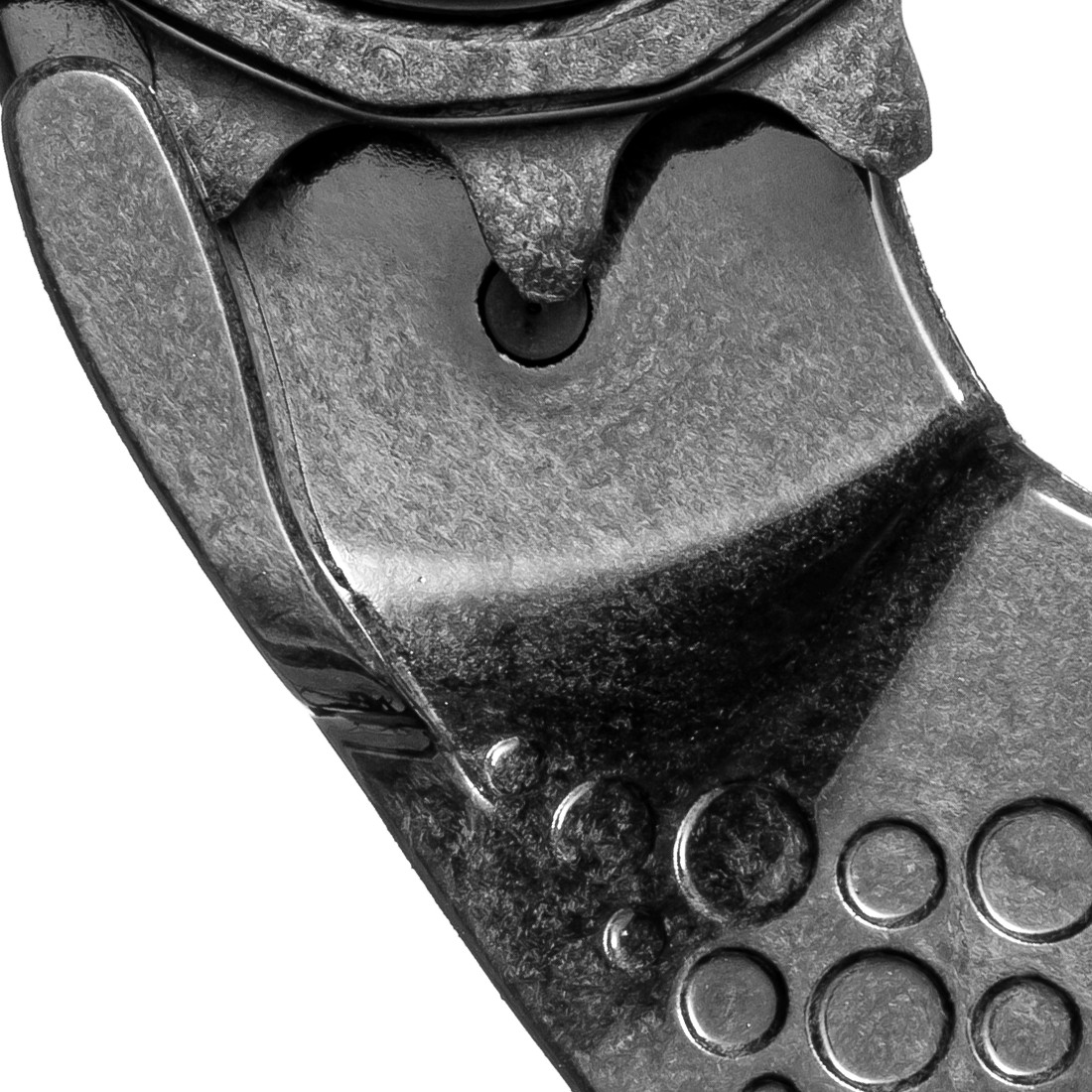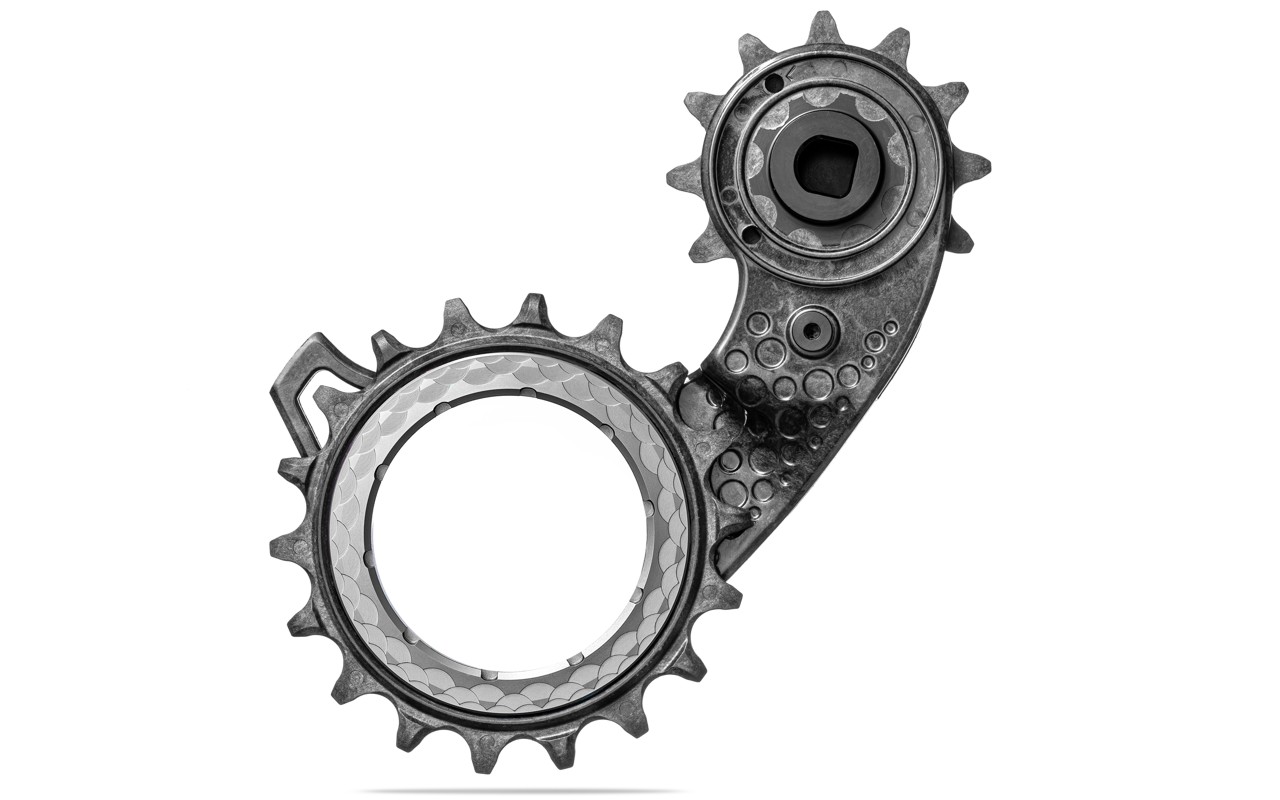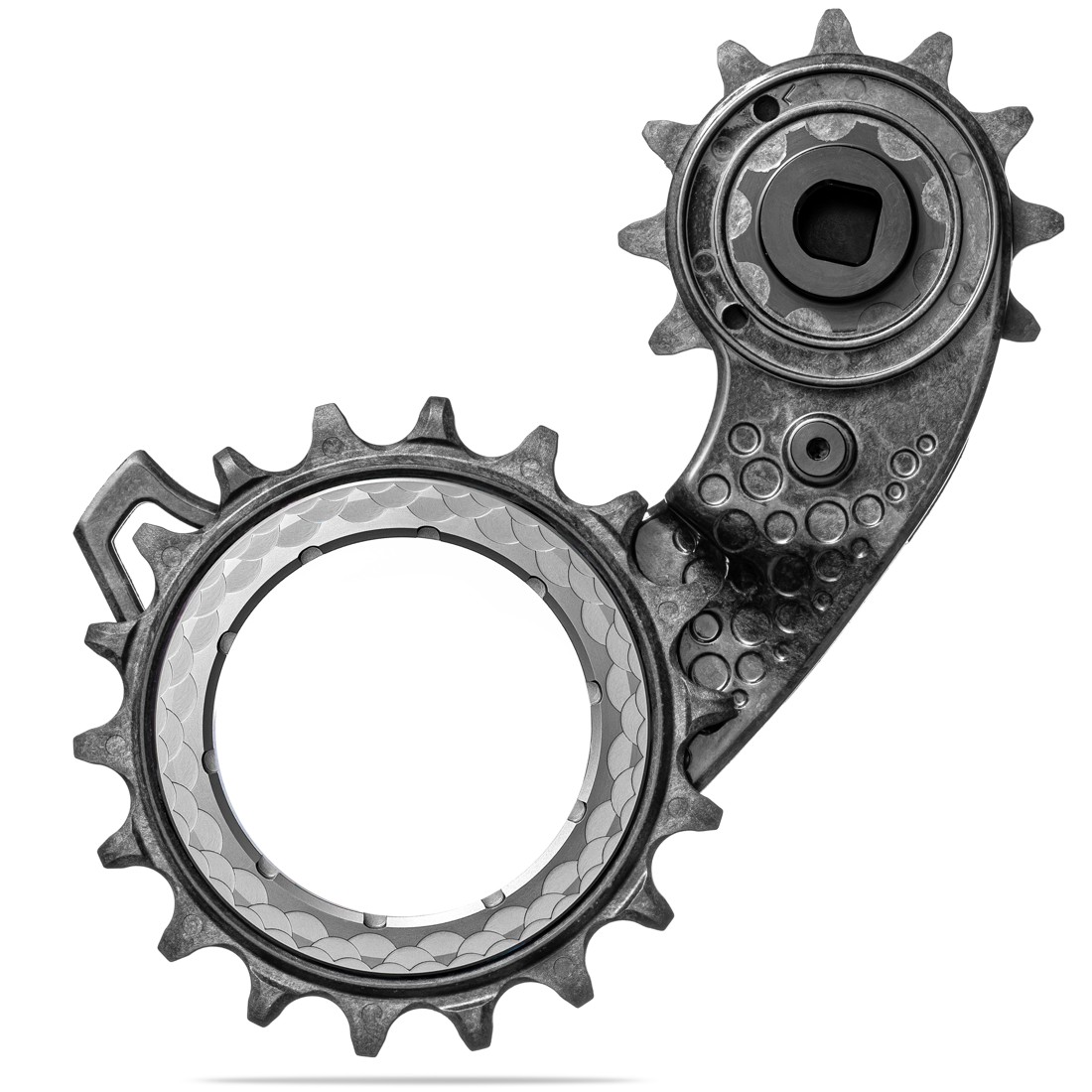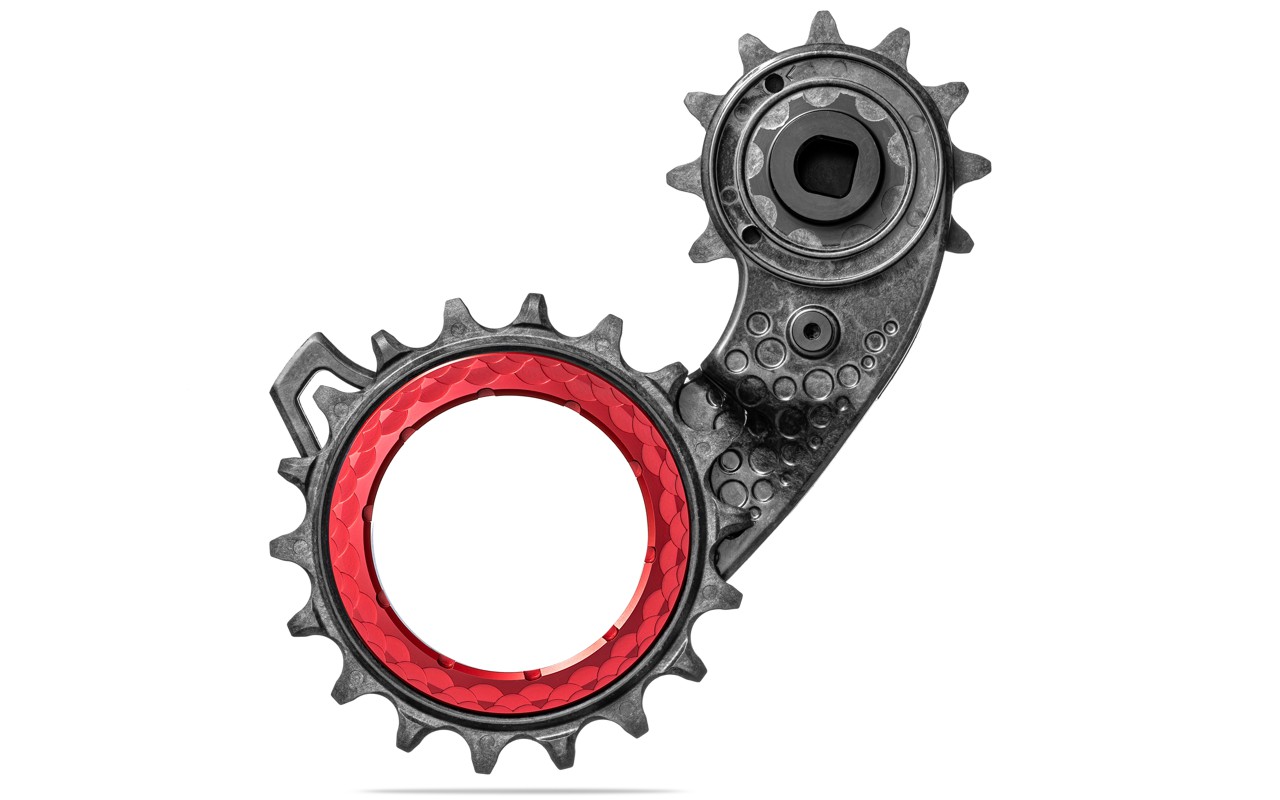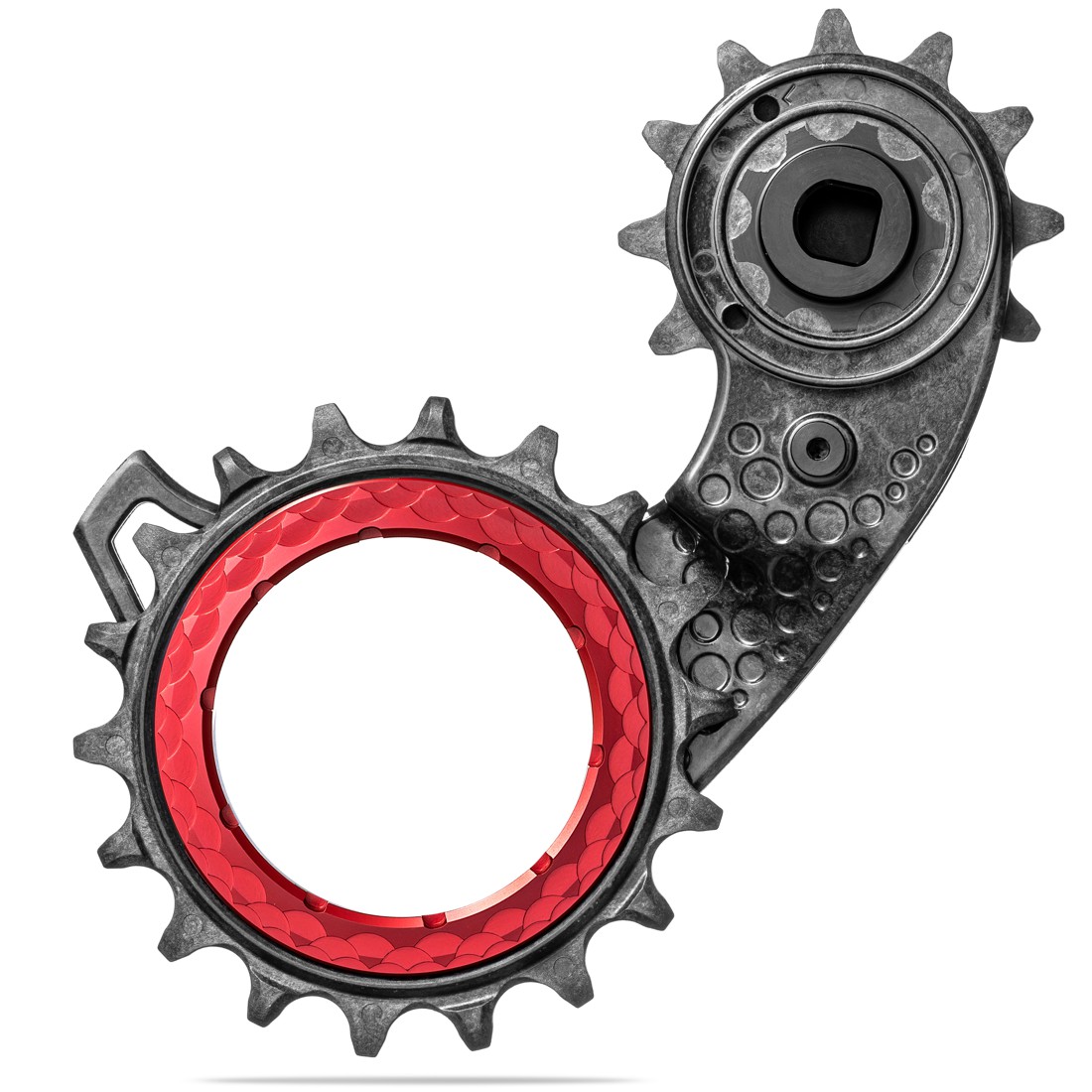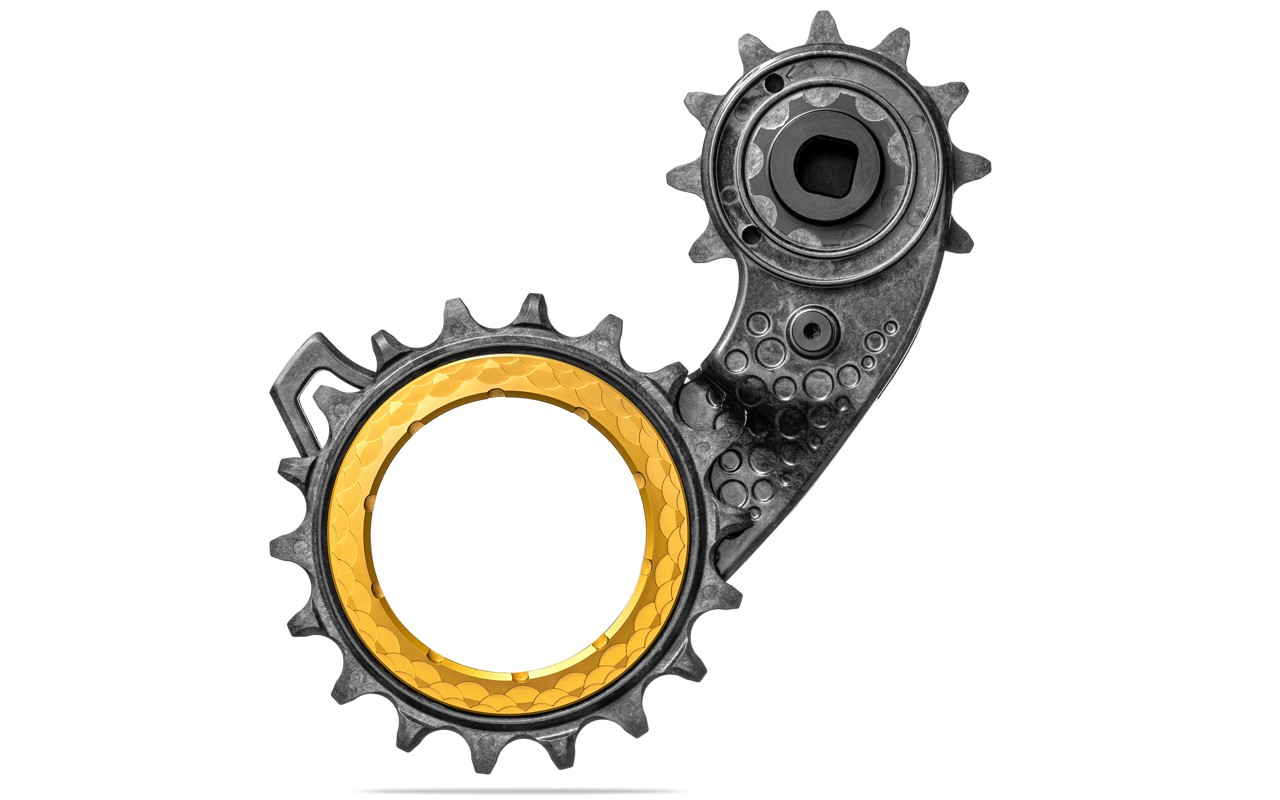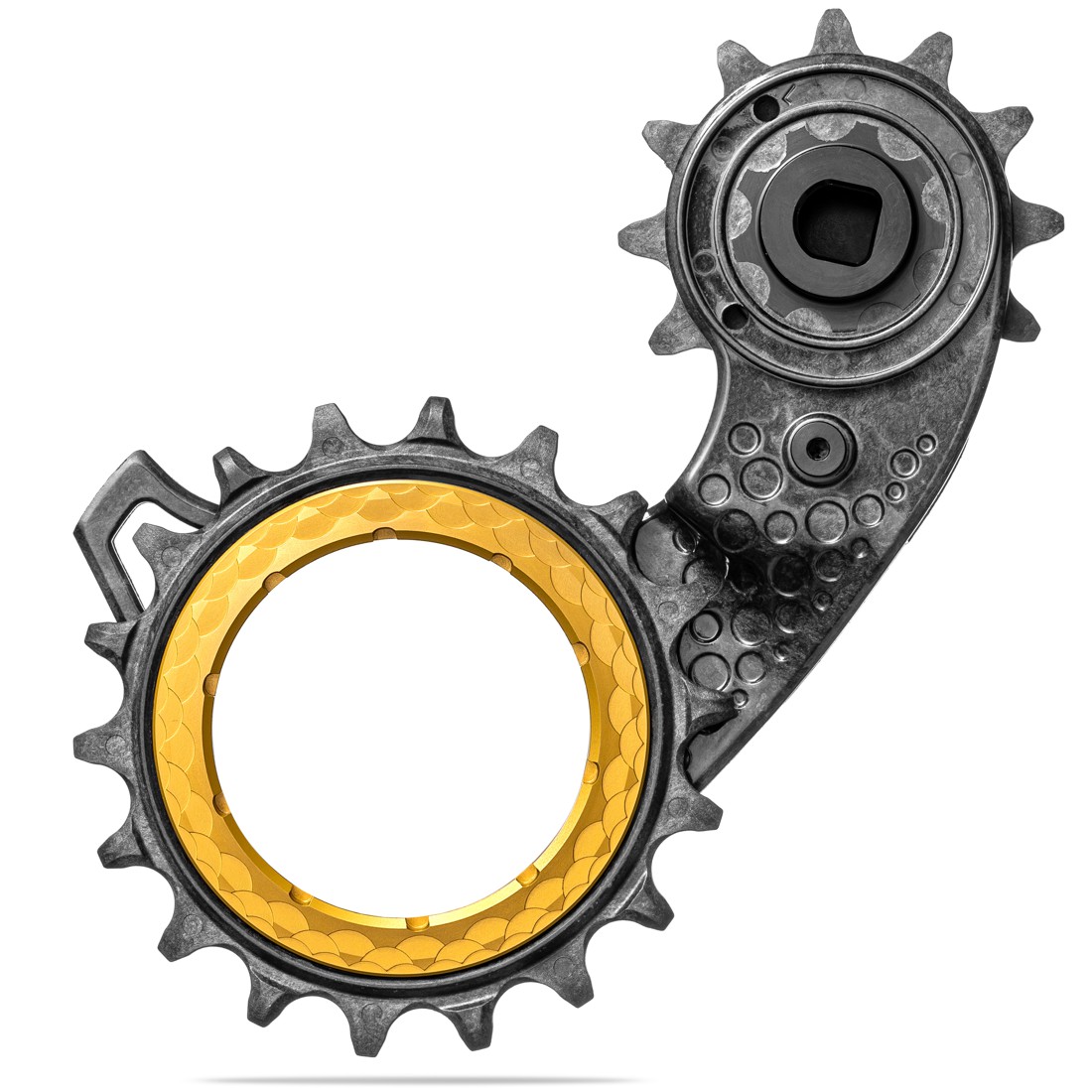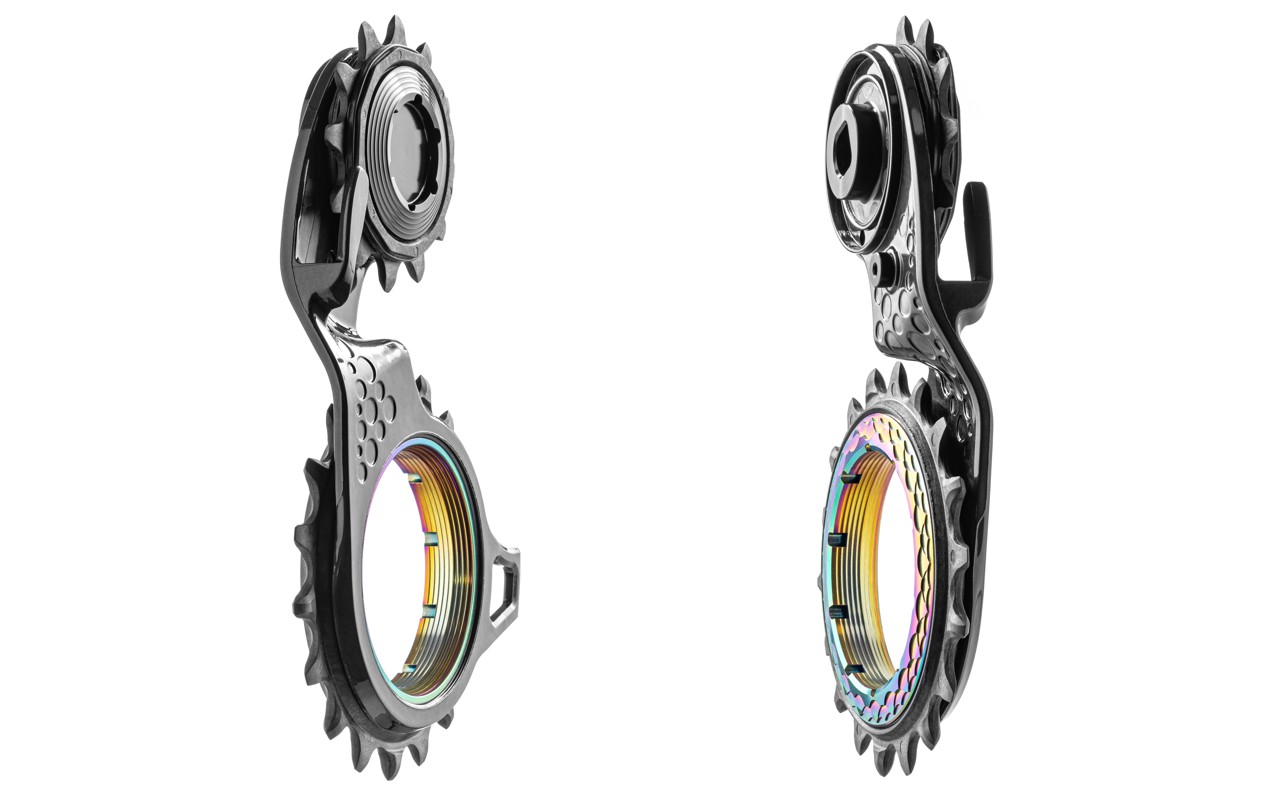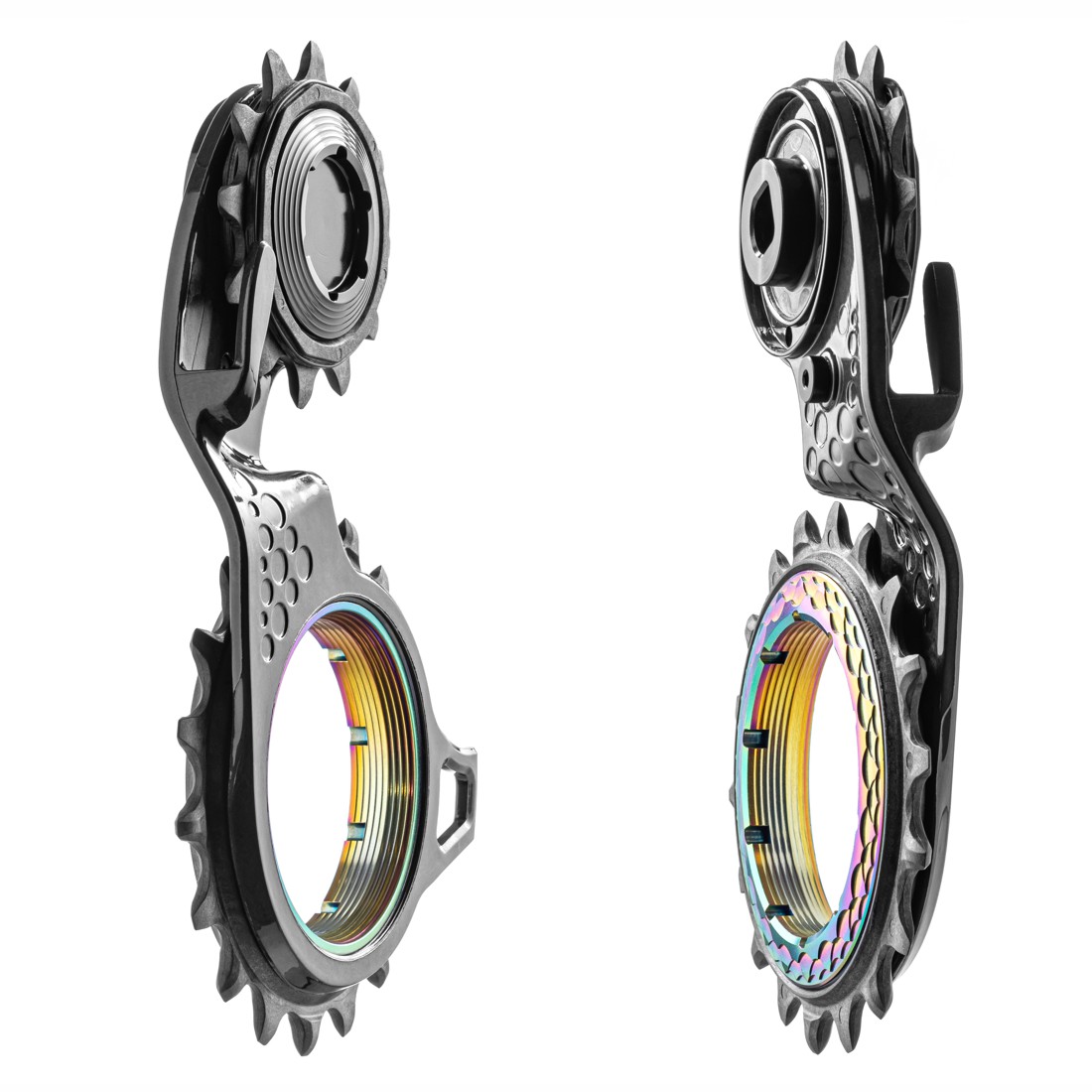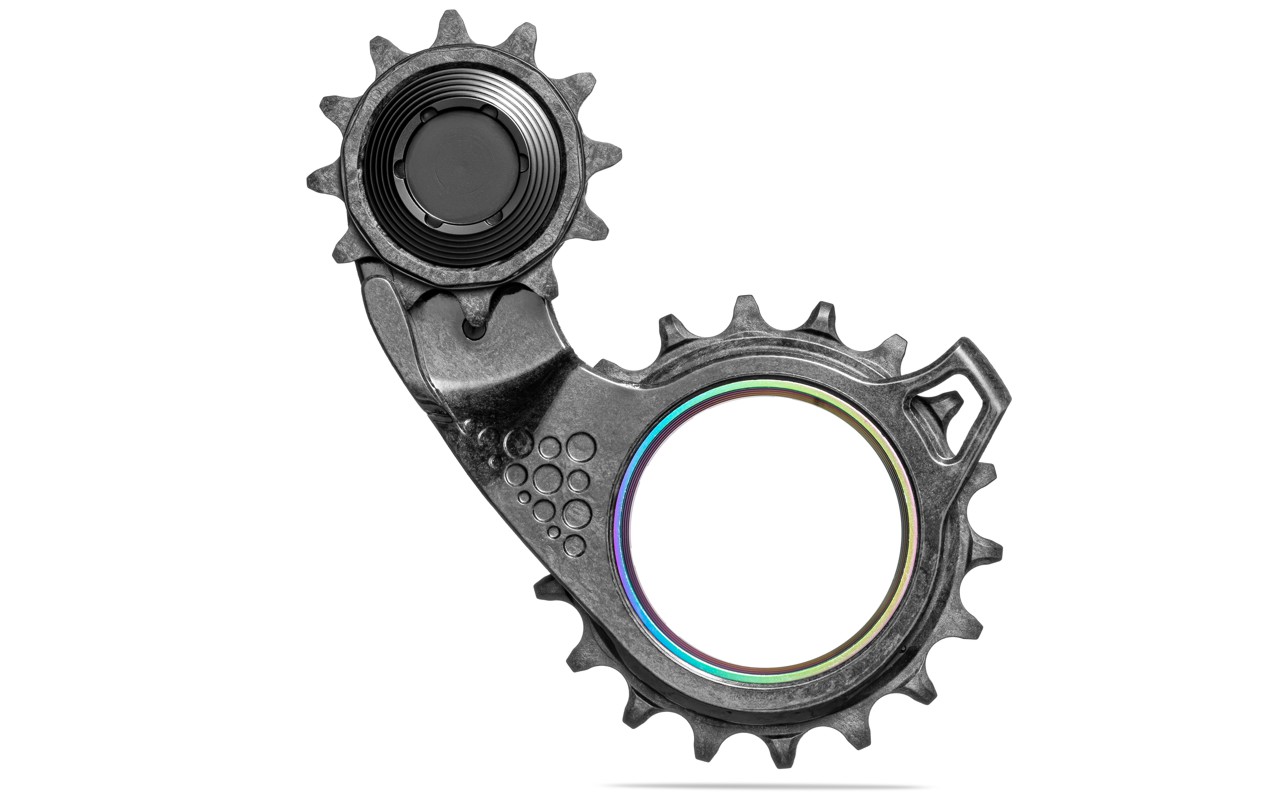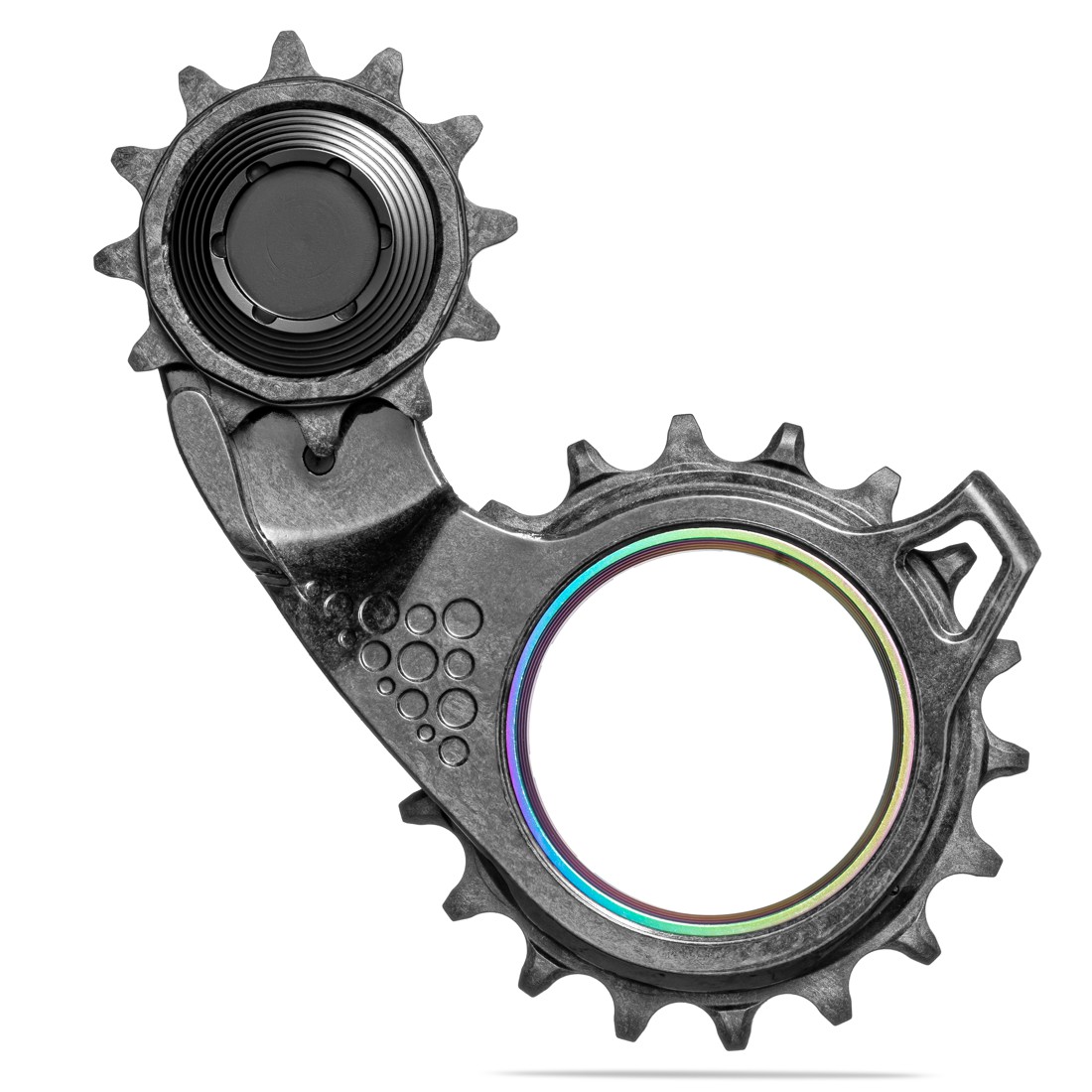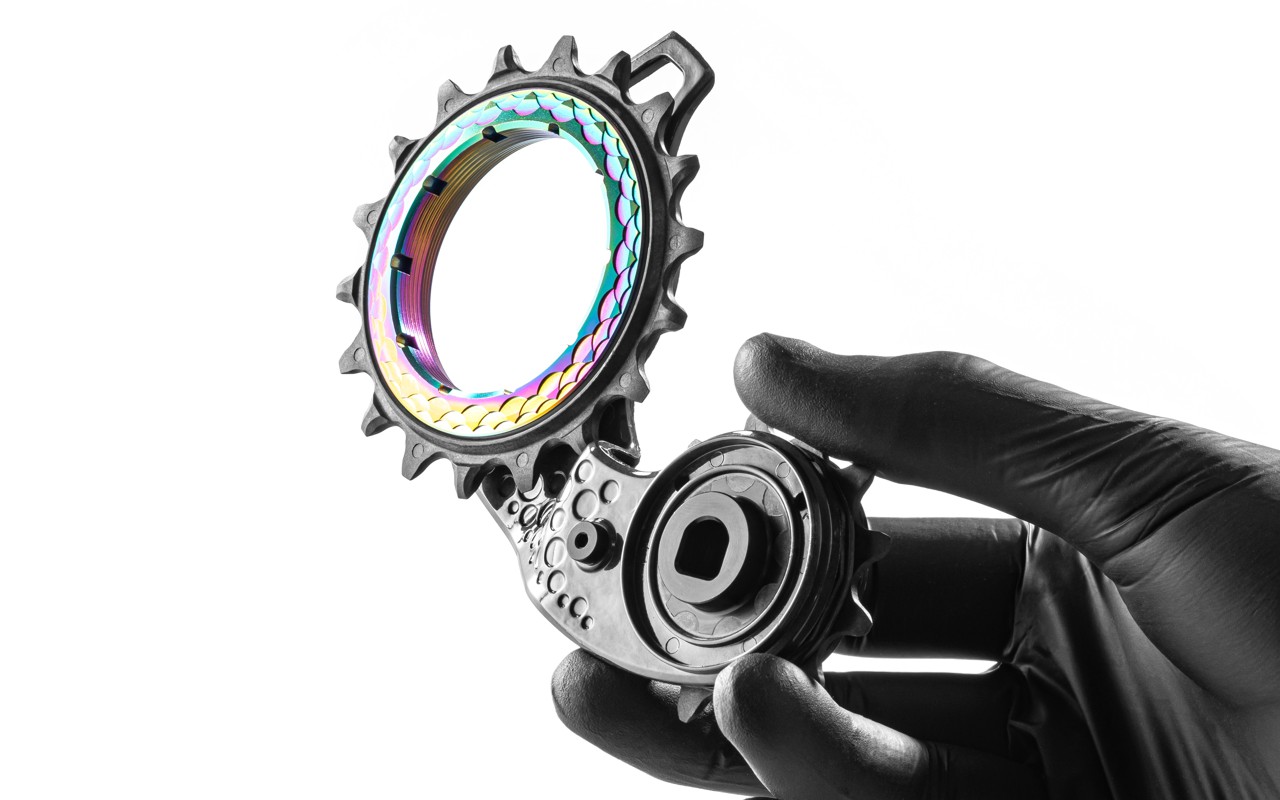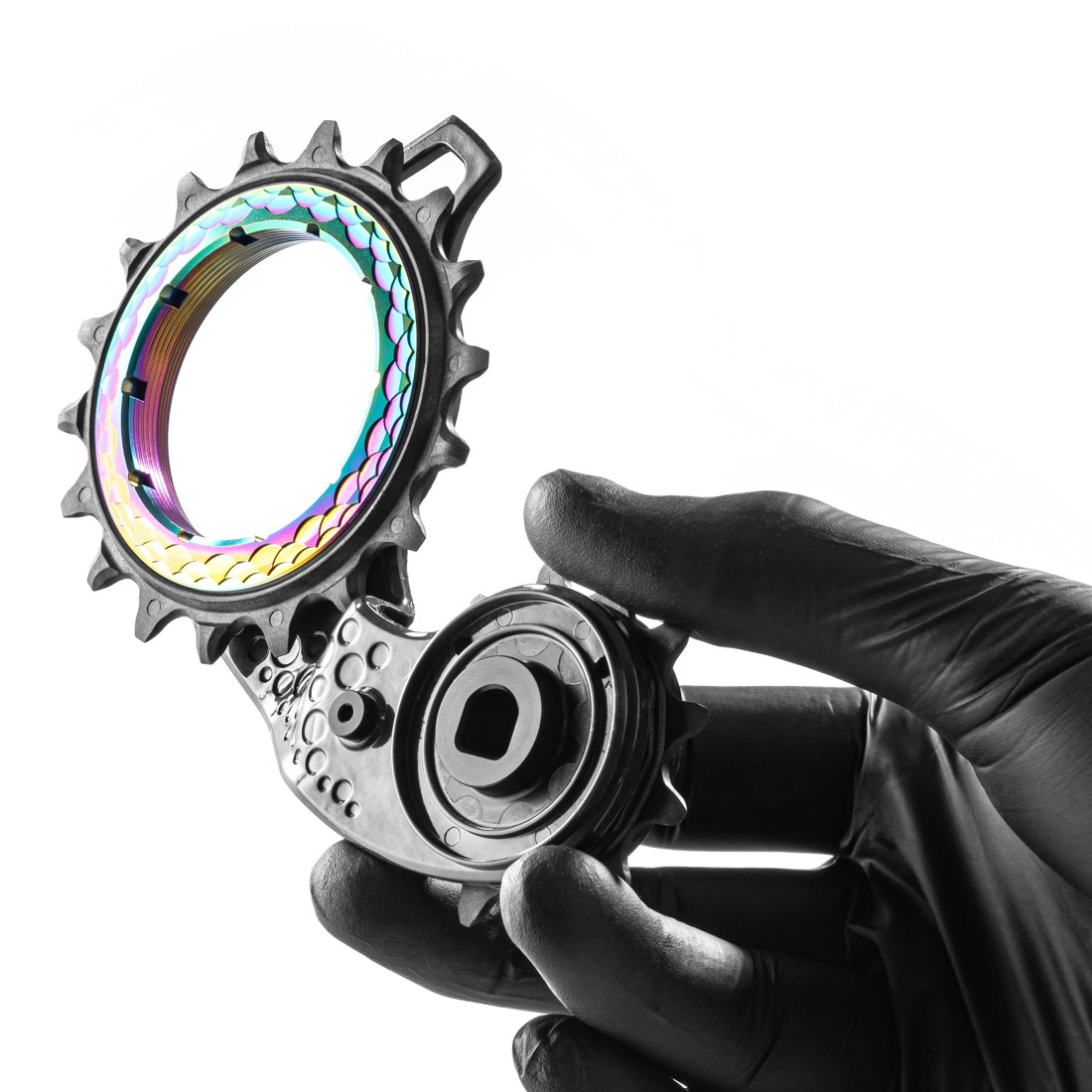 Hollowcage® Sram eTap AXS Carbon Ceramic Oversized derailleur pulley cage
Availability
Limited stock available. Don't wait, order now.
Thanks for your rating.

Do you like this product? Share it with your friends!
HOLLOWcage® for eTap AXS Red & Force 12spd derailleurs finally makes your AXS drivetrain whisper quiet. Our revolutionary mono-plate oversized pulley wheel (in short OSPW) is the quietest and best shifting oversized derailleur cage for eTap AXS created to date. HOLLOWcage ® OSPW has a carbon-polymer mono-plate construction with bespoke, oversized, full ceramic bearings and the most advanced silencing pulleys ever made.
Sram eTap AXS is known to be louder than other drivetrains. Our HOLLOWcage® with Silent " Xring Pulley™ " completely eliminates this problem allowing you to enjoy the ride.
My AXS runs so much quieter
" I was quite skeptical until a friend of mine got one. He was blown away with how silent his AXS was, so I got one too and have to say I'm absolutely delighted. "
Hands down, best looking cage
"I simply got it for the bling factor (pvd version) and it didn't disappoint. It became a conversation starter on every bike ride."
Impressively silent
" After month of riding I am very impressed with how silent my drivetrain is, AB totally nailed this one ."
Fast and crisp shifting
" Shift precision in second to none , which was the biggest issue with the previous oversize cage I had."
Sexy as hell!
" My bike finally looks sexy "
| | |
| --- | --- |
| Size (Mass +/-1g): | 69g |
| Color | Lower lockring: PVD Rainbow, Black, Titanium, Red, Gold ; Upper lockring: Black |
| Compatibility: | Sram eTap AXS Red & Force & Rival 12spd derailleurs. Works with 10-26T, 10-28T & 10-33T & 10-36T cassettes (check chain length calculation at the bottom). Not compatible with Sram XPLR and 11spd Red / Force. Works ONLY with AXS Flat Top chain. Do NOT mount any other chain. |
| Materials used: | Carbon fiber-polymer matrix, 7075 Aluminium, rubber, ceramics |
| In the box | Complete cage, lockring tool, special tool, 2x spare xring rubbers |
The new era of silent pulleys. Meet the Silent "Xring Pulley™"

Does it bother you when you ride in a really quiet scenery, but you can still hear your bike's drivetrain? This familiar clunking noise has been accompanying us on every ride for decades. It's time for a change.




Common polymer pulleys are fairly loud, this has always been a norm. Aluminium pulleys are even worse as the material radiates the sound more than any polymer, making them louder. We are introducing a completely new generation of pulleys, which are able to reduce the sound level by 12-14dB when compared to stock pulleys. This corresponds to roughly 60% of the noise reduction. Practically speaking, the cage becomes very silent.

We use a patent pending solution, our special xring rubber suspended bands, that dampen the chain impact on the guide pulley teeth, therefore eliminating the engagement noise, which is the single biggest contributor to overall drivetrain noise. From now on, your ride is going to be more silent than it used to be and you will hear sounds that you haven't noticed before. It's the new era of derailleur cages



Why is our OSPW HOLLOWcage® so special?

*It is Incredibly silent (over 12dB noise reduction vs stock).
*The shifting is as good as with the original cage.
*One of the lightest oversized cages on the market.
*First mono plate construction of its kind.

Our bearings are full ceramic. In technical nomenclature, it is a bearing with inner and outer race as well as balls, made of ceramic material. The seals and the cage however, are made of polymer. Other common types of bearings are steel bearings and hybrid bearings. The latter is often mistakenly called "ceramic" bearing but only the balls are ceramic, races are still made of steel. Hence there is a term "full ceramic" indicating that not only the balls are made of ceramic but both races too. Our bearing races are made out of 100% Zirconia Oxide ceramic and balls are made of Silicon Nitride ceramic. The cage and seals are of course made of low friction polymer.




How to mount HOLLOWcage for Sram eTap AXS cage

Please refer to the video instruction below.
For service / maintenance instructions please refer to our FAQ page.

Download also our PDF instruction. Following this tutorial is crucial for the proper functioning of the drivetrain.



Find correct chain length for HOLLOWcage Sram AXS




Wrap the chain around the biggest sprocket of the cassette and the biggest front chainring, omitting completely the derailleur cage. Holding the chain under tension, pull the ends together so they touch. This is the base length.

Depending on the drivetrain you need to add the following to the base length:

*Extra two links for 10-28T & 10-33T cassette in 2X scenario.
*Extra two links for 10-36T cassette in 2X scenario.
*Extra four links for 10-33 or 10-36T cassette in 1X scenario.
*Extra four links in 2X scenario only if you are upgrading from 10-33 to 10-36T cassette (ie. when your bike came with 10-33T but you upgrade to 10-36T).




We offer 4 year warranty on bearings* (for more information please refer to our FAQ page)



Designed in England. Manufactured in EU. The World's best oversized derailleur pulley cage
HOLLOWcage® is a registered mark of absoluteBLACK. "Xring pulley™ " is a trademark of absoluteBLACK. Mono plate cage construction, as well as our special silencing pulley is protected by several patent applications in multiple jurisdictions. #HOLLOWcage, #ospw, #oversizedpulley